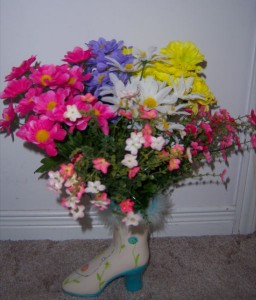 There are gifts, and then there are gifts that last.  The books and other ideas listed below will be sure to make memories for your family.  We've enjoyed each one of them and are thrilled to share them.
Obviously, some of the best gifts are those that involve companionship and imagination:  a huge box, an adult who has some time, sticks, dolls, strings, paper, and crayons, block, puzzles, and games.  But, just as obviously, there are other kinds of wonderful gifts too.
Two years ago I made a huge list of educational gifts with free options. Of course, in many cases these gifts don't really seem educational, but some of the best learning happens when people don't know they are learning. Here's another good gift in this category for the child who loves science and humor:   Weather Wits and Science Snickers—the book itself, of course, and not the workbooks.
Last year I wrote about last-minute gift ideas—special foods are always appreciated at our house.
One of my all-time favorite gifts, especially for little girls, is artificial flowers in a vase, like those pictured above.
I've reviewed a lot of great resources over the years, and some of them would make excellent Christmas gifts.   Here is a short list:
(Note that each link is to my review of that item, so you can make an informed decision.  As always, there are no affiliate links and I am not compensated for recommending these gift ideas.)
Mainly for younger readers (but also of interest to older ones):
The Lily Lapp books have become favorites in our family, and I think they will in yours too.  Lily is an Amish girl whose life is full of everyday events as well as exciting adventures.  This mix really appeals to my children. Both boys and girls aged 8-12 (and even older) will enjoy the children's adventures and understand Lily's deepest hopes and fears.  Our children read these books to themselves, but they would also make excellent read-alouds. The Lily Lapp books are for children to enjoy over and over and for parents to remember by.  Highly recommended.
Here's another gift idea for a wide range of ages:  a stunning series of picture books by Simonetta Carr.  The Christian Biographies of Young Readers are about famous figures in history and church history, presented accurately enough to interest adults and simply enough to appeal to children.  The illustrations are incredible.  These are the kind of inspiring books that could become keepsakes. So far I've only reviewed Augustine of Hippo but the rest of the books in this series are at least as good, and some of the illustrations are even more beautiful.
Here's another series that gets read over and over at our house:  The Shadow Series by Piet Prins, all about World War II in the Netherlands.
For older readers, including adults:
One Thousand Gifts is one of the best books I read in the past year.  It is full of hope, courage, and the faith to be grateful, no matter what.
If you're looking to give someone inspiration for the New Year, I've really enjoyed Tell Your Time, as well as 21 Days to a More Disciplined Life and Happier at Home.
To bless a married couple—or your own marriage—get a copy of My Beloved and My Friend.
I have reviewed so many more good books, both fiction and nonfiction, that you might want to check out.  And remember, if you are on a budget, you can always give a free book.
Moving beyond books, if you wish to give a special gift while supporting a third world craftsman, check out Ten Thousand Villages.
I hope you will find gifts that bless your loved ones.  Above all, remember that this season is not about the gifts we give or get, but about the great gift God gave us when our Savior, Jesus Christ, was born.
What kinds of gifts do you like to give? Or are you still deciding?
This post is linked to Encourage One Another Wednesday, Works for Me Wednesday, and  Raising Homemakers.