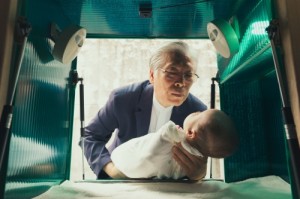 A bell chimes and Pastor Lee Jong-rak hurries past shelves of baby supplies to the drop box at the front of his house.  He opens its door and finds yet another baby.  Carefully he carries it back to the warmth of the living quarters, unwraps it while volunteers and some of his children watch, and prays, "Thank you, God, for saving this baby's life."
Hundreds of babies have been left in that drop box instead of being abandoned on the streets, in garbage areas, or on cold doorsteps.  Hundreds of little lives have been saved
Drop boxes are not new, but they are controversial.  Some suggest that their presence may encourage parents to give up their babies rather than keep them.  However, Pastor Lee points out that his drop box saves the lives of abandoned babies who could otherwise die before being found.  As long as babies are being abandoned, he wants to provide a place where they can be abandoned safely.
Over twenty years ago, Pastor Lee and his wife welcomed their severely handicapped son into this world.  Through this boy, who has never done more than lie on his back, God taught them that each life is valuable.  It is the handicapped who are most often abandoned, but Lee says that these children, who rely on others for survival their whole life long, are the educators of society. They teach and change many people.  He is convinced that
God sent them to this world with disabilities.  Therefore they are not the unnecessary ones in the world.  God sent them to earth with a purpose.
One of the ways God used Pastor Lee's son was to give his father the vision to rescue handicapped and abandoned children.
Throughout the movie we see heart-warming images of little ones laughing, playing, eating, and just being kids.  Some of them are handicapped.  Some of them were born to very young and unwed mothers who were under great pressure from family and society to get rid of them. Many of them would have died, but now they are alive, thanks to Pastor Lee's drop box and his heroic efforts to save them.
Although most of the abandoned babies go on to government care, Pastor Lee has also adopted many.  He says, "The reason I decided to become their father is because God has adopted me."
This moving faith has had a great impact.  Brian Ivie, the atheist director of this award-winning documentary, became a Christian.  Many babies' lives have been saved; many adult lives have been changed.  Thus The Drop Box shares a message of hope, testifying that every life is valuable and that God sends everyone to this earth with a purpose, even those whom society says are not really necessary.
Visit the website for more information about the film and to find a theatre where you can see it in Canada (March 4 or 5) or in the US (March 3-5).  To find out more about Pastor Lee and how to help him, as well as about the filming and the producer, visit Kindred Image.
Caution:  Some images may be disturbing for young viewers.
—
Disclosure:  I was given a preview link by Focus on the Family Canada and Graf-Martin Communications Inc. in order to prepare this review.  My opinions are my own and I receive no compensation for this review.
For more encouragement, visit Raising Homemakers, Titus 2 Tuesday, Works for Me Wednesday, Mom to Mom Monday, Monday's Musings, Missional Weekend, R&R Wednesdays, From House to Home, Homemaking Mondays, Good Morning Mondays, Make Your Home Sing Mondays, Faith Filled Fridays.