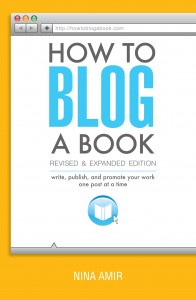 At the back of my mind I have a dream, like a child's pretty pebble, that I take out, admire once in a while, and then tuck away again.  I suppose many bloggers have the same dream:  to write a book.  After all, writing a book is traditionally what writers dream of…and we bloggers are writers.
Yet most of us just write our blog posts and continue on with our busy lives.
If, however, our dream grows big enough to become a calling, perhaps our blogging can lead to a book.  Nina Amir discusses this concept in her revised and expanded How to Blog a Book: write, publish, and promote your work one post at a time.
I read the first edition of this ground breaking book years ago; the new edition is even more fascinating and helpful.  Step by encouraging step, Nina leads the reader through the two processes of
blogging a book—writing the first edition of a book blog post by blog post, and
booking a blog—taking what you've already blogged and turning it into a coherent book.
In 240 information-packed pages Nina discusses all the aspects of how to 'write, publish, and promote your work one post at a time':
Choosing an idea and determining whether or not it would be successful
The advantages of blogging a book
How to prepare to blog your book
Your book's business plan
Creating your blog
Writing your blogged book
How to book a blog
Getting readers for your blog
What to do when you have finished your book
Success stories
Each chapter is full of practical tips and savvy advice.  If I were blogging a book, I'd get a print copy of this book and fill it with scribbles and post-it notes.  I would also explore the other books she lists on each topic. As an example of just how helpful Nina's practical advice is: I've been a blogger for quite a few years, yet her discussion of blogging generated a lengthy to do list for improving my blog.
The final chapter, 'Success Stories,' in which Nina asked authors questions about their writing, blogging, editing, and promotion, ties everything in the book together by giving the candid answers and advice of other successful author-bloggers.
Am I planning to blog a book—or book my blog?  Not now; right now there are too many other calls on my time.  Will I do so eventually?  Probably.  In fact it seems almost inevitable, and when that time comes I will be using Nina Amir's How to Blog a Book.
Would this book be of any use in a homeschool?  If you have a teen who cannot stop writing, who blogs, or who wants to write a book, whether fiction or nonfiction, How to Blog a Book would provide both inspiration and practical information.   It could well catalyze his or her transition from book learning to participating in the great conversations of the world.  Although How to Blog a Book is written for adults it is, with one or two brief exceptions, suitable for all ages.
If you or your teen have any interest at all in extending your writing beyond your blog, I highly recommend How to Blog a Book, Revised & Expanded Edition.  At the very least it will be an enjoyable read, and it could change your life.
In a follow-up post, Bloggers Who Became Authors, I've highlighted some great blogger-authors that I've watched go through this process.
Currently my comment form is not working (my technie son and I have not been able to resolve this yet), but you can comment on Google+ instead.  Thank you for your patience, and let me know:  do you dream of blogging a book?
—
This is yet another book in the in the 2015 52 Books in 52 Weeks Challenge and is also linked to Saturday Reviews, Booknificent Thursdays, Literacy Musings Monday, and The Book Nook.
For more encouragement, visit Raising Homemakers, Titus 2 Tuesday, R&R Wednesdays, and Trivium Tuesdays.
Disclosure: I received an e-copy of this book from Nina Amir for the purpose of this review.  All my opinions are my own, and I am not compensated for sharing them.