We are not travelling across the country to visit relatives this year, but we do want to fill our summer with fun and good memories.  So recently we packed up the troops and headed out to explore Fort Henry, a monument to Canada's past relations with the US.
Fort Henry in Kingston was built as a defense against the United States.  Yes, dear American friends, you used to be a significant threat to us, and we had these cannons to defend ourselves.
Large 50 pound cannon balls.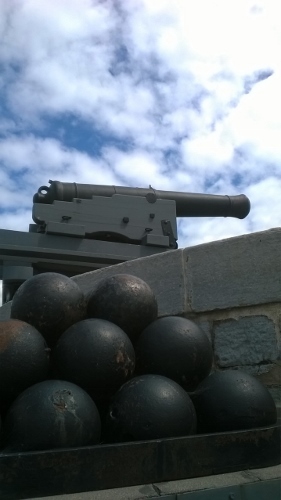 A different kind of cannon projectile.  Good thing we did not need to use them!
Of course, soldiers need to eat and sleep…and do they ever keep their quarters neat!  We saw living quarters of officers as well, but they were tastefully decorated with personal possessions and real furniture.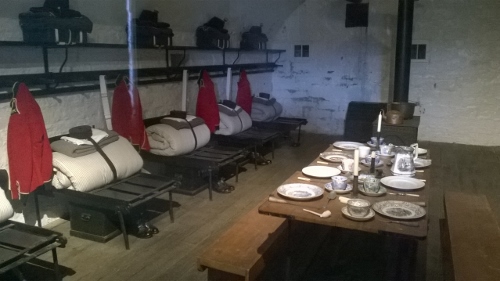 However, the best of all was watching the parade, a half hour display of music and marching.  Such stirring music, such talented drummers, such intricate and flawless marching patterns!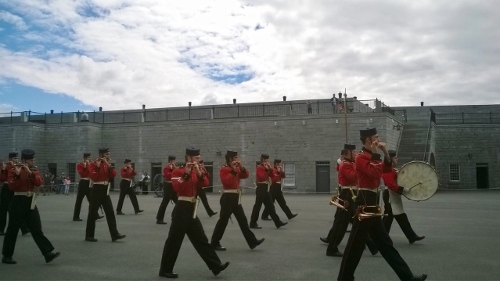 Unfortunately, staying for the world famous Sunset Ceremonies would have been foolish, so we bought the DVD and plan to watch it soon.
—
Besides being a happy family adventure, this trip helped bring to life our multi-year, literature-based Canadian history course.
If you are ever near Kingston, Ontario, Fort Henry is well worth a visit.  Although admission is expensive, it includes a free ticket to Upper Canada Village (link to our field trip report of a few years ago), which makes for an affordable two-day adventure. For more information and to see a brief video, visit the Fort Henry website.