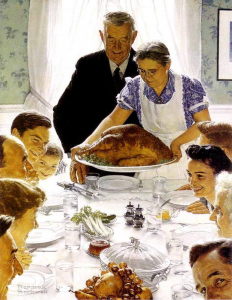 Being Canadian, we have already enjoyed our Thanksgiving turkey, and it was delicious.
I used to dread cooking turkey, hoping desperately that it would be neither undercooked nor dry and overcooked.  With this recipe it's so stress-free to make tender and delicious turkey!
Here's what I do (and what some of my friends are now doing as well):
1. The night before, or early in the morning, preheat the oven to 400F.  Then put the turkey into the roaster and pop it into the oven. If it's huge, as in more than 15-20 lbs, or partially frozen, be sure to put it in the night before.
2. Heat it at 400F for 30-40 minutes. (If you have a tiny turkey, leave it at 400F only about 25 minutes.)
3. Turn the oven down to 200F and cook the turkey all day (and night if you put it in in the evening) at that temperature.  It will cook slowly and stay tender and delicious for hours at 200F.
4. Enjoy.
Notes:
Our turkeys are usually around 15 lbs and mostly thawed when I put them into the oven, and we cook them for 10-24 hours, depending on circumstances.  At such low temperatures they never get tough.
The initial cooking time at 400F kills bacteria on the surface.
I always cook the stuffing separately.
Unless you are certain that your oven thermostat is correct, use a meat thermometer.  Since the oven temperature in this method is barely above the official 'done temperature' you must be sure that you do reach the correct temperature.
This is based on a method found in Let's Cook it Right by Adele Davis. (That old cookbook is one of my treasures.)
—
Because this method makes such moist, tender, delicious turkey in such a stress-free way, I thought it would be worth letting my dear readers know about it again, so this is a repost from a few years ago.  When I first published it, I was honored that my friend Jacqueline at Deep Roots at Home republished it and added some other links.  In return, I borrowed her delightful picture.
For more great ideas, see Raising Homemakers, Titus 2 Tuesday, R&R Wednesdays, WholeHearted Wednesday.