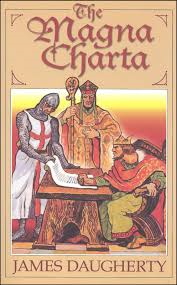 June 15, 1215, one of the most significant days in English history, saw wicked King John sullenly sign the Magna Charta, acknowledging freedom of the people and restraining his own power.
How did this all come about?  How was such an evil king persuaded to restrict his own power?
James Daugherty, award-winning author of the past, has written a dramatic account of kings and queens, castles and barons, sea battles and sieges, intrigue and honesty, faith and wickedness, all bound together by the outrageous arrogance of John Lackland and the suffering of his people.
There are moments of humor; who can avoid laughing at the image of a powerful king throwing a temper tantrum and chewing on the rushes covering the floor?  There are also moments of horror at the devastation and ruin that plagued the common people, but Daugherty's way of writing shields the young from its effects.
The Charter itself is also presented, to the groaning, muttering, sweating, and rage of King John.
After the exciting story of King John and the Magna Charta, Daugherty discusses 'The Children of the Magna Charta' from the Mayflower Compact to the United Nations Charter, making this book a guide to United States history as well.
The Magna Charta by James Daugherty is a stirring introduction to one of the greatest documents of our history and is highly recommended for every homeschool.  The girls enjoyed the story, and I was moved to see God's hand in history.
—
This year the Magna Charta is 800 years old, and we have celebrated its birthday in various ways, seeing one of the earliest copies at the Canadian Museum of History, reading this book, and watching Magna Carta: Our Shared Legacy of Liberty, an anniversary documentary which I plan to review soon.
Because the Magna Charta is fundamental to Canadian history, this book forms part of our multi-year, literature-based Canadian History course . This review is linked to Finishing Strong , Trivium Tuesdays,  Saturday Reviews, Booknificent Thursdays, Literacy Musings Monday, and The Book Nook.
Disclosure: We bought this book several years ago, and I am not compensated for this review.