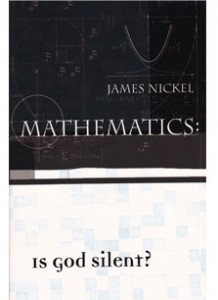 Here's an essential question for all homeschoolers:  does God have anything to say about mathematics?  Is there a Christian way to teach math, or is it a neutral subject on which an atheist and a believer would agree?
In 357 thoroughly-researched pages, James Nickel shows that those who do not believe in God eventually lose the underpinnings of mathematics.  They have no philosophical basis for understanding why math works and why it represents the physical world so well, calling it a profound and unsolvable mystery.  Those who believe in a Creator God, however, can accept that there is a mathematical link between human thought and the world around us, because God created them both.  This has implications for teaching math, even in a homeschool setting.
Beginning with the concept that the pursuit of math, like anything else we do, is to be an act of worship to God, Nickel sets out to re-interpret mathematics in the light of God's Word.
Nickel's detailed history of mathematics examines how mathematical practice and thought developed throughout history.  From Adam to the present, he examines how the worldviews of different cultures affect their mathematics, and how changes in thought affect its progress.  He points out that the birth of modern science and the related explosion in mathematical knowledge only occurred in Europe and shows why other civilizations could not have supported this enormous development.  He also explains the crisis in mathematical philosophy that followed the development of non-Euclidian geometries, the many attempts to find a firm basis for the discipline, and the final mathematical proof, presented by Godel in 1930, that the ultimate foundations in mathematics cannot be found by reason alone.
When society accepted the fact that God was Creator, it made sense that mathematics corresponded to the physical world.  If one does not believe in the biblical God, there is no reason for this to be so and modern mathematicians acknowledge this difficulty while refusing to accept God.
So, how could all this possibly affect the way we teach our children math?  Once we understand that even secular mathematicians accept the fact that mathematics has no basis without God, we can see that Christians must think through math teaching more carefully.  Nickel discusses some well-known math curricula and many books about math, but his main point is that to the student most math teaching seems to be merely a collection of abstract chicken scratches with no real life significance.  The solution according to Nickel?
To teach mathematics in its true perspective, the abstract principles must be derived from concrete, physical, and scientific foundations.  The power of mathematics is that its methods can be applied to these abstract principles and produce new insights that can be returned to the concrete in extremely fruitful applications.
This is an exceedingly helpful book, with carefully-explained information, review and discussion questions at the end of every chapter, a detailed index, an annotated bibliography, a description of helpful math programs, and a relevant timeline.  It is obviously the work of a lifetime, an invaluable contribution to Christian education at all levels and to a Christian perspective on mathematics.
Although Mathematics:  Is God Silent does present some mathematics, the discussion is more philosophical than mathematical.  I found it an intense read because my background in philosophy and the history of ideas is shaky.  Therefore my reading goal was only a few pages each day and, boy, were those intense minutes full of 'aha!' moments!  I will be rereading this again, because it is one of those books worth chewing over.
While not every homeschool mom will want to read Mathematics:  Is God Silent, those of us with a philosophical, mathematical, or scientific bent cannot afford to miss it.  If you are a classical or Charlotte Mason type of homeschooler, you will need to read it as well.  Yes, it will be work, but very, very worthwhile work.
(And until you have time to read Mathematics:  Is God Silent, follow Ambleside Online's suggestion and get your children to read a few books about math every year; the AO website lists age-appropriate books.)
This is yet another book in the in the 2013 52 Books in 52 Weeks Challenge and is also linked to Saturday Reviews and Trivium Tuesdays.
Disclosure:  I bought this book at our local homeschooling conference and am not compensated for writing this review.