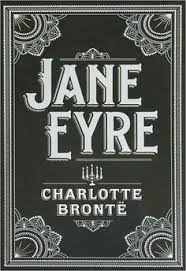 You've probably heard the story.  Orphan Jane, mistreated as a charity case, courted as a governess, tempted to become a missionary, narrates.   She tells of rugged Mr. Rochester, dear little Adele, sweet Diana and Mary, cold St. John and, above all, herself, a meek but intense person, easily overpowered, capable of revolt when pressed too hard, and determinedly dedicated to principle.
This book, besides being a great novel and a great romance, is about the search for family and belonging.  It's about principles, love, temptation, submission, revolt, and self-respect.  It's about what goodness is, how and when the law applies, and trusting in God.
Miss 18 said Jane Eyre had no redeeming qualities, being neither deep nor fluffy but only unbearably gloomy.  I think it may be the kind of book that can best be enjoyed by a reader old enough to have struggled with life.  At 50 I consider it profound, emotional, and often gloomy, with a totally unbelievable but inevitable (in storyland) happy ending.
If you have never read Jane Eyre, enjoy!  If you haven't read it for a while, you will probably find it worth your while to reread.
—
Charlotte Bronte has woven so much into Jane Eyre.  Here I list and share some of her ideas, mostly on the theme of temptation, but there are many others on many different themes. (Caution:  SPOILERS)
Ch 12—on daydreams, lack of scope and challenge, and discontentment
Ch 14—on being a good listener 'with a kind of innate sympathy'
Ch 14—on temptation seeming like an angel of light,
Ch 14—on making 'new laws' for 'special circumstances'
Ch 16—on common sense and reason disciplining memory, imagination, and feelings
Ch 24—"He stood between me and every thought of religion, as an eclipse intervenes between man and the broad sun.  I could not, in those days, see God for his creature: of whom I had made an idol."
Ch 27—on how pity differs, depending on whether it comes from callous, selfish hearts or loving ones [this is part of what was wrong with Job's friends; the other is that they lied about God in their efforts to defend him]
Ch 27—"I will keep the law given by God; sanctioned by man.  I will hold to the principles received by me when I was sane, and not mad—as I am now.  Laws and principles are not for the times when there is no temptation:  they are for such moments as this, when body and soul rise in mutiny against their rigour; stringent are they; inviolate they shall be.  If at my individual convenience I might break them, what would be their worth?  They have a worth—so I have always believed; and if I cannot believe it now, it is because I am insane—quite insane: with my veins running fire, and my heart beating faster than I can count its throbs.  Preconceived opinions, foregone determinations, are all I have at this hour to stand by: there I plant my foot." [as an aside, though Jane recognizes elsewhere that she has been saved by powers beyond herself, in these decisive moments she does not turn to God.  Perhaps because, as in the quotation from Ch 24, she could not, in thosee days, see God for his creature?]
Ch 30-35—on St. John's character, goodness, self-delusion, despotism, way of dealing with temptation, and unconsciously judgmental attitude. [This is a fascinating study.]
Ch 37—Mr. Rochester, when Jane had come back:  "I thank my Maker, that, in the midst of judgment, he has remembered mercy. I humbly entreat my Redeemer to give me strength to lead henceforth a purer life than I have done hitherto!"
—
This is yet another book in the in the 2016 52 Books in 52 Weeks Challenge and is also linked to Saturday Reviews, Booknificent Thursdays, Literacy Musings Monday, What to Read Wednesdays and The Book Nook.  For more encouragement see Raising Homemakers, Titus 2 Tuesday.
Disclosure: I borrowed this book from Miss 18 and am not compensated for this review.