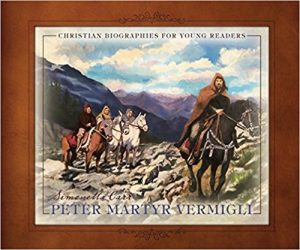 This Easter weekend I am grateful to tell you about Peter Martyr Vermigli, a man who devoted his life to helping others understand the meaning and significance of the gospel.
Some church history figures are famous and others have names we recognize, but Peter Martyr Vermigli, well, I had never heard of him.  And I am not alone in that; most Protestants have not, and yet we are all indebted to him because he was so influential in his day.
Born in Florence in 1499, Peter Martyr grew up in the center of the Renaissance world. His mother was his first teacher, but she died when he was twelve.  At 15 he joined a nearby monastery and studied God's Word with the goal of eventually teaching it, and this he did.  First throughout Italy in the Roman Catholic church and then as a Reformer throughout Europe, he was always encouraging, teaching, and writing to increase people's understanding of God and his Word.  He taught ordinary believers as well as scholars, and his influence spread along with the Reformation.  He talked with royalty, worked on Thomas Cranmer's Anglican Book of Common Prayer, and explained the doctrine of the Holy Supper so clearly that John Calvin said he 'left nothing more to be done.'
All of this, together with Peter Martyr's personal life, is woven into a compelling and inspiring story.  Maps, photographs, a timeline, and the late Joel Spector's beautiful illustrations make Peter Martyr Vermigli an in-depth journey into the past as well as a trek through Europe.  Thorough research and careful attention to detail illuminate each page and leftover tidbits are included in separate sections at the end of the book.
Once again, Simonetta Carr has written an enriching and spell-binding story of a hero of the best kind:  someone who strives to serve God with his whole being, someone we can learn from and thank God for, someone who points us to God.  Peter Martyr is one more person in the cloud of witnesses to God's goodness, the cloud that surrounds us and encourages us to lay aside every weight, and sin which clings so closely, and to run with endurance the race that is set before us, looking to Jesus (Hebrews 12).
The illustrations by Joel Spector, who never lived to see the publication of this book, are poignant, especially this one of Cranmer telling Peter Martyr that they would never meet again in this life.  As a side note, the last letter Cranmer ever wrote was to his friend, Peter Martyr.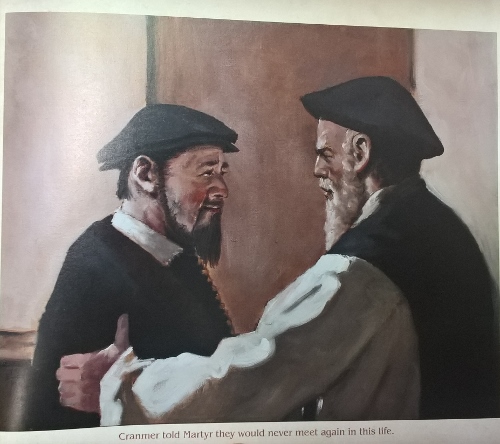 Peter Martyr Vermigli will add much to church history and history lessons.  Although this book, like the others in Simonetta Carr's Christian Biographies for Young People series, is ostensibly for preteens, I find them interesting and my teens also learn a lot from them.  In fact, I always tell people that the age range should read 7-99 instead of 7-12, although each book does have a few elements specifically for preteens.  Certainly the entire series is valuable in a study of church history or world history for any child, teen, or adult.
As we remember the 500th anniversary of the Reformation, I encourage you to read Peter Martyr Vermigli for yourself and with your children.
—
I have had the privilege of reviewing many of the books in Simonetta Carr's Christian Biographies for Young People series and recommend each one.
You may wish to look at my review of Death in Florence by Paul Strathern , which provides a fascinating and detailed picture of Florence just before Vermigli's birth.  However, this book does have a few issues and I cannot recommend it unreservedly.
—
If you enjoyed this article, you might want to follow me on Google+ where I often mention helpful or interesting ideas, or connect with me on GoodReads where I share what I read. 
Disclosure: I received a copy of this book from Reformation Heritage Books for the purpose of this review.
This review may be linked to Saturday Reviews, Booknificent Thursdays, Raising Homemakers, Finishing Strong , and Trivium Tuesdays.