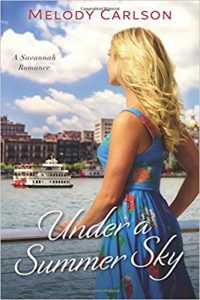 At the end of the school year, art teacher Nicole Anderson receives an unexpected summer job offer:  She is invited to manage an art gallery and house sit for a wealthy family friend  in Savannah.  It all seems ideal until she meets her co-worker Amira, sometimes called Vampira.  Childhood friends Alex and Ryan surprise her, too, after all these years, and Alex's ghost-loving teen daughter Bernie provides a different kind of surprise as well as a lot of meaning to the summer.
As a high school art teacher and artist, Nicole is well-suited to manage the gallery as well as to address adolescent issues.  Thus this book is about much more than the possibility of romance:  managing difficult co-workers, teens blaming themselves for divorce, materialism's consequences, identity issues, and alcohol poisoning.  Each of these topics is addressed from a Christian point of view but without preachiness.  In this way the author helps young believers understand some of the practical implications of Christianity and also provides wholesome refreshment.   Author Melody Carlson writes skillfully—after more than 200 books, one would expect that—and Under a Summer Sky is no exception.
This smooth story is predictable in a relaxing way and is a soothing distraction after a stressful day.   Miss 14 enjoyed it but pointed out that there's not much to it.  Sometimes that is exactly what one needs; besides, what there is, is worthwhile.  I recommend it for when you need a break but are too tired to read anything heavy.
This summer I am reading a lot of Miss 14's style of books, hoping to be able to enjoy and discuss them together.  Perhaps this will even be an opportunity to compare styles of writing and discuss both literary and biblical standards of excellence.
—
If you enjoyed this review, you might want to follow me on Google+ where I often mention helpful or interesting ideas, or connect with me on GoodReads where I share what I read. 
—
This is yet another book in the in the 2017 52 Books in 52 Weeks Challenge and is also linked to Saturday Reviews, Booknificent Thursdays, Literacy Musings Monday, and The Book Nook. 
Disclosure: This book has been provided courtesy of Baker Publishing Group and Graf-Martin Communications, Inc. and is available at your favourite bookseller from Revell, a division of Baker Publishing Group.