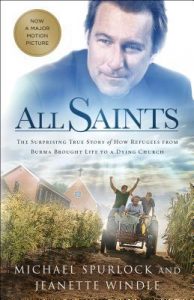 When we think about church history, our minds often go back to Reformation times in Europe but, of course, God works throughout the whole world and all time.  All Saints presents the harrowing recent history of persecuted Karen Christians in Myanmar (formerly Burma), as well as the miraculous story of a dying American congregation, All Saints, in Tennessee.  Subtitled The Surprising True Story of How Refugees from Burma Brought Life to a Dying Church, this book shows how God works in human lives, cultures, and institutions.
After being wounded in battle and leading a group of refugees through chilling dangers to safety in Thailand, Ye Win returned to the Christian faith of his family.  Some of his fellow Karen people fought and some did not, but all suffered.  Many, like Ye Win, became refugees, living in camps in Thailand or starting anew in other countries.    Eventually Ye Win became the leader of a large group of Christians who were given asylum in the United States.
Meanwhile, in Smyrna, Tennessee, a dwindling, debt-ridden congregation prayed for new members.  To the astonishment and initial consternation of the All Saints Anglo congregation, God brought Ye Win's community of Karen refugees to Smyrna, and under the guidance of Father Michael Spurlock these two disparate groups, united in the love of Jesus, became one.
This is a true story of youthful folly, God's irresistible call, great sacrifices, perplexing difficulties, and increasing trust and obedience.  Beginning with misunderstandings of God's sovereignty, it ends with a total reliance on it.  Sin, heartbreak, quarrels, illness, unresolved issues, and difficult questions form the background for miracles, trust, love, and conversion.  This is real life, with PTSD, illness, and racism, and although these problems do not go away, God gives hope in the midst of hardship and encourages his people to keep on trusting and obeying him.
Essentially, All Saints is the story of a church whose members committed to place Jesus Christ squarely in the center of their community and daily lives, and to place themselves completely under his authority.  It tells of Father Michael, a new vicar who realized that the only one capable of helping and healing the Karen refugees was Jesus Christ.  It shows God working in human hearts and lives in amazing ways, ways that we might be able to see in our own lives if we would only open our eyes and notice.
Church history stories of centuries ago can be inspiring, but seeing that God is still the same and still works through his Word and broken people in the same way, is encouraging in a completely different way.
I highly recommend All Saints for teens and adults as an inspiring story of God's work.  It could also add value to home high school studies of Bible, church history, history, and geography.
Note:  A major motion picture, All Saints was released this summer and is still playing in some North American cities.
—
If you enjoyed this review, you might want to follow me on Google+ where I often mention helpful or interesting ideas, or connect with me on GoodReads where I share what I read. 
—
This is yet another book in the in the 2017 52 Books in 52 Weeks Challenge and is also linked to Saturday Reviews, Booknificent Thursdays, Literacy Musings Monday, and The Book Nook. 
Disclosure: This book has been provided courtesy of Baker Publishing Group and Graf-Martin Communications, Inc. and is available at your favorite bookseller from Bethany House, a division of Baker Publishing Group.