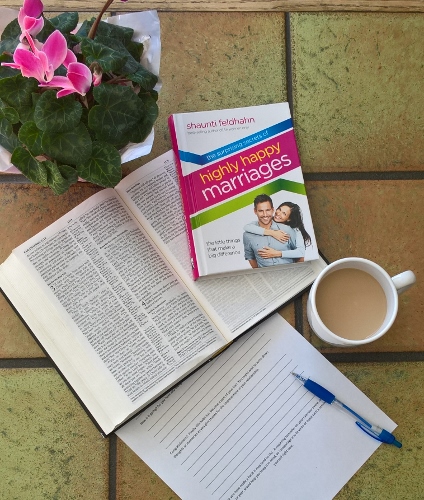 Sometimes a person gets involved in a project that just grows and grows.   While I was writing an article on Shaunti Feldhahn's The Surprising Secrets of Highly Happy Marriages and simultaneously trying to understand how to help a friend apply its wisdom to her marriage, it occurred to me that I needed to make a worksheet.   A worksheet could make it easier for people apply Shaunti's research to their own marriages, I reasoned as a homeschooling mom whose main focus is making learning easier.
That one worksheet has grown into many, and now I'm thrilled to be able to share them with you, Worksheets Based on The Surprising Secrets of Highly Happy Marriages
Who are these worksheets for?
I have written these worksheets for three types of couples:
Those with happy marriages who want to get even better at loving their spouse.
Those with mostly happy marriages who are facing significant challenges that could drive a wedge between them (e.g. busyness, illness, fundamental disagreement, tragedy), because these Surprising Secrets make a huge difference even if things are otherwise hard.
Those who are struggling, desperate for practical help to transform their marriage from difficult to at least tolerable and maybe even happy.
Ideally both spouses would work on this project together but, let's face it, that's not the way things often work.  And that's okay; as Chapter 7 of The Surprising Secrets points out, it is important to drop unrealistic expectations about our spouses.  Besides, Shaunti relates that marriages are improved even if only one spouse wants to work on the Surprising Secrets in this way.  With prayer, patience, determination, a sense of humor, and support, surprising change is possible.
Although these worksheets were written for Christians, non-Christian couples can benefit from them, too; after all, Shaunti's research included both Christians and non-Christians and the principles she discovered apply to all.
What else will you need?
The Surprising Secrets of Highly Happy Marriages by Shaunti Feldhahn.  For more information about this excellent book, see my review and notes.
What will these worksheets do for you?
In the worksheets I have combined the results of Shaunti's research with current thought about developing habits and attaining goals. In other words, the worksheets for each habit incorporate important aspects of successful goal setting and habit building in order to help you develop the habits most effectively in your own life.  This makes the whole worksheet collection rather long, but the section for each habit is as self-contained as possible for ease of use.
I pray that these worksheets will be a blessing to you and help you improve your marriage for God's honor, your family's joy, and the strengthening of your communities.
"Watch in hope for big, happy changes
to come from these small, simple steps.
Trust God for the outcome.
And start."
—
For more information about the excellent book on which these worksheets are based, see my review of The Surprising Secrets of Highly Happy Marriages by Shaunti Feldhahn.
You might also enjoy my article The Surprising Secrets of Highly Happy Marriages:  What research and the Bible say about the best marriages.
—
If you enjoyed this article, you might want to follow me on Google+, where I often mention helpful or interesting ideas, friend me on Facebook where I am just a newbie, or connect with me on GoodReads where I share what I read. 
—
This article may be linked to Raising Homemakers, Saturday Reviews, Booknificent Thursdays, 52 Books in 52 Weeks Challenge, Literacy Musings Monday, and The Book Nook.