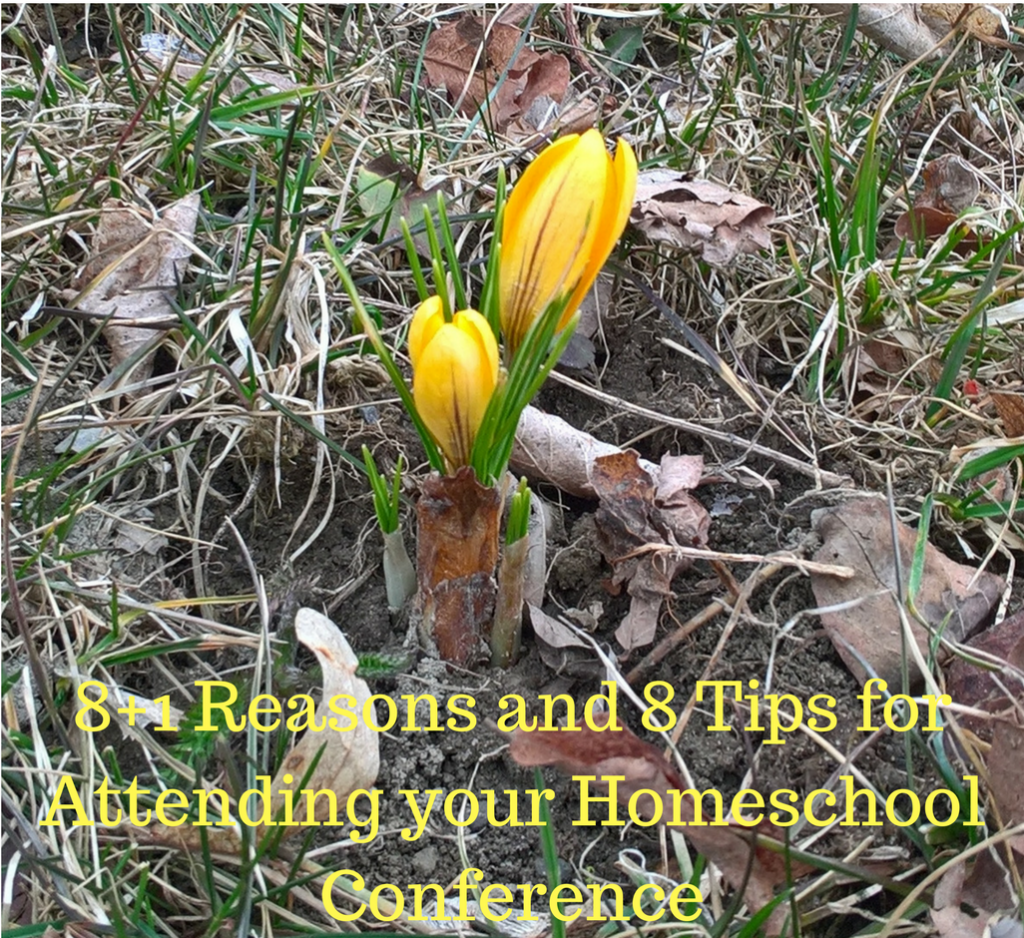 Are you trying to decide whether or not to attend your local homeschooling conference?  Are you weighing the hassle against the benefits and not sure if it would be worth it?
Let me tell you something.  Going will benefit you in at least 8 ways, and most likely you will be able to bless someone else, too.
So do go if at all possible.  Most likely your homeschool, like everyone else's, could use a bit of springtime refreshment.  If you prepare properly, and I will give you ideas for that below, your conference will almost certainly benefit your homeschool and you, yourself, as well.
Here are 8+1 reasons to attend your homeschool conference:
You will learn a lot, things you had no idea you needed to learn, things that will make a difference to your children.
You will be reminded of important concepts you really do know but have almost forgotten, as I was two years ago.
You will be encouraged and inspired by wise and godly speakers.
You will be able to look at all sorts of resources and curricula and ask questions of knowledgeable people.
You might find an educational treat or two, like puzzles, bug kits, or a great historical read aloud.
You will connect with old friends and maybe meet new ones.
You will be refreshed.
You may need a day off more than you think you do.
These are all great reasons to attend, but there is another side to it.
Perhaps you will be the listening ear who makes someone else's day, or the one who smiles encouragement into someone else's overwhelmed worry, or the person who reminds a weary soul to look to Jesus.
Your local homeschooling conference is a gift to you and your family.  I would even go so far as to say that it is a gift from God.  So, let me say it again, if you can attend, do go.  Don't let inertia hold you back.
Of course, it will help to plan ahead so things will run smoothly.  Here are 8 things to do before the conference:
Decide which talks to attend.
Make a list of resources you want to look at and set a budget.  Or decide ahead of time that you will go home and think about your options before buying, if that approach will make your decisions wiser and your day less stressful.
Budget for a mommy splurge.  One year I bought Mathematics: Is God Silent? (link to my review) and it opened the world of math/science history and philosophy to me; in fact, it literally changed my life and my kids have benefited, too.  If I manage to go this year, I want to look at Sonya Shafer's Laying Down the Rails for Yourself, both for me and for my teens, but I may end up buying something completely different that I have never even heard of before.
Plan to meet friends you haven't seen for a while.
Eat a good breakfast.
Pack a lunch, or plan to splurge on a lunch out.
Wear comfortable shoes.
Make sure supper is taken care of so you don't have to worry about it when you get home.
With all that done, off you go!  Enjoy, learn, and be refreshed.  Accept this professional development day with gratitude, looking forward to being encouraged and inspired and to encouraging others.
(Of course, it might impossible for you attend your homeschool conference; it now seems I will not be well enough to attend ours this year, either.  That makes me sad, for I would dearly love to be there.  However, as I wrote three years ago, "Sometimes life seriously gets in the way, and it's best if we learn to accept that cheerfully and not complain about what God has put in our path."  I'm working on that cheerful acceptance.  If you are in a similar situation, I pray God will give you peace, trust, and hope, and will refresh you and your homeschool in a different way.)
May God make your homeschool conference a blessing to you and to your family.  May he make you a blessing to others.  And may he bless the organizers and speakers so that Christian homeschoolers in your area will thrive.
—
If you enjoyed this article, you might want to follow me on Google+, where I often mention helpful or interesting ideas, friend me on Facebook where I am just a newbie, or connect with me on GoodReads where I, eventually, share what I read.  When I get around to it I will figure out how to set up a proper 'follow me by email' button as well; if you want me to hurry up with that, feel free to encourage me in the comments.
—
This post is linked to Inspire Me Monday, Raising Homemakers, Friendship Friday, Make My Saturday Sweet.