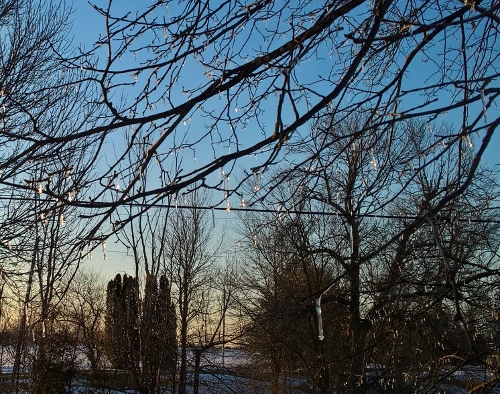 This week trees dripped with tiny icicles from an unusual episode of freezing rain. Some of the icicles stayed for more than a day, softening the evergreens and spring-colored bushes into pastel versions of themselves.
Water hurried through the ditches but when the cold overpowered the current, it crystalized into glassy sheets and patterns.
There was so much unexpected beauty, so much to enjoy and thank God for!  Even in the busiest or the most difficult times, we can see such evidence of God's creativity, if only we discipline ourselves to look for it.
I hope you, too, will be able to slow down and see some of the miracles God has put into your world. Because if you don't slow down and open up, you won't notice them and if you don't notice them, you cannot enjoy them and thank God for them.
May God bless you this week!
—
If you enjoyed this article, you might want to friend me on Facebook where I occasionally show up, or connect with me on GoodReads where I eventually share what I read. 
This may be linked to Inspire Me Monday, Christian Homemaking, Friendship Friday, Make My Saturday Sweet.