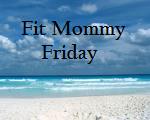 encouraging each other to care well for the bodies God has given us
My personal goal is to regain strength after a debilitating illness so that I can live a healthy, active life with my family.
Whatever your fitness goal, please feel free to join Fit Mommy any time.
I am so thankful for garlic and vitamins to fight colds!  I woke up one night with a terribly sore throat, and was ill for only two days rather than the traditional 10-14 days.   Exercise-wise I took it easy this week.  I had no trouble at all avoiding sugar, and I was able to sleep in, something I usually cannot do.  So, while it was not a perfect week, fitness-wise, it could have been so much worse.
Record my fitness accomplishments each day… Skipped a day.
Do 10 repetitions of my eye exercises 5 days a week and relax my eyes whenever I think of it …4x instead of 5.
Go for a daily walk and average 7500 steps a day … Not, obviously, when I was ill, but the rest of the week went quite well. Here are my steps for the week:  ???, 8000, 4800, 7000, 8000, 7600, for an average of 7100 steps.
Have good posture and do core strengthening exercises while walking… Walking on the treadmill is especially good for this.
Work on the Callanetics maintenance program… I took the week off.
Be usefully active for 1 to 2 hours a day, 6 days a week, without overdoing it … I hung up laundry, weeded, harvested, helped the girls go through their winter clothing boxes, shopped, and puttered around the house.  No huge physical efforts, but lots of small ones.
Avoid sugar five days a week … Yes.
Eat lots of vegetables, including fresh ones, and yoghurt … Yes to the veggies.  Our garden is really producing now, and it's almost hard to keep up.  I also enjoyed a little bit of yoghurt.
Prepare and eat one fermented or soaked food a week… We enjoy buckwheat groats for breakfast, the untoasted kind, and they are great soaked overnight.
Relax daily…Yes.
Cut something out of my schedule…At the start of the school year it's so tempting to add lots of extra-curricular activities!  I'm still working on these decisions!
Have fun with the kids, including active fun…We swam, gardened, and shopped.  Not very exciting. After weeks of yard work for neighbors, Miss 12 and Miss 14 were happy just to relax, read, and do their own thing.
How about you? Did you exercise, eat well, and relax happily this week?
Please link up your health and fitness post in the comments below. You can use your own format, your own goals, and post on whatever day works for you. Just don't forget to link back here from your post.
Note: Fit Mommy Friday is the Health and Fitness Check-In column of The Christian Home Carnival.