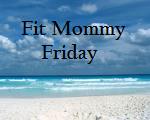 encouraging each other to care well for the bodies God has given us
My personal goal is to regain strength after a debilitating illness so that I can live a healthy, active life with my family.
Whatever your fitness goal, please feel free to join Fit Mommy any time.
My husband, formerly an allergic, overweight guy with backaches, high blood pressure, and many ailments, is now a regular weightlifter who chops wood for fun.  He has no back aches, no blood pressure issues, and very few allergies.  Not only has he displayed incredible self-discipline over the years but he's also learned something that I intend to benefit from:  If you work your muscles very hard, you get stronger when you take days off from exercising.  So after working hard one day, I'll give that muscle group a rest the next day.  For example, today I will try to keep my walking well under 6000 steps because I walked 9300 yesterday.
I also read this in Happier at Home by Gretchen Rubin (review coming up):  People tend to overestimate what can be done in the short term, and underestimate what can be done in the long term, a little bit each day.  So my exercise goals will be ridiculously low.  That way I will be able to improve slowly and deliberately rather than continue this summer's crazy overexertion/exhaustion cycle.  The tortoise always wins the race.
So here are some new, hopefully wiser, goals.
Record my fitness accomplishments each day… Yes.
Do 7 repetitions of my eye exercises 5 days a week and relax my eyes whenever I think of it …Yes.
Go for a daily walk and average 7500 steps a day … My pedometer is working again, but I did not try to reach my goal this week.  Rather I just went about my daily business.  The pedometer did tell me when to slow down, though. Here are the step numbers:  6100, 5000, 7200, ???, 6000, 9300, for an average of 6700.
Have good posture and do core strengthening exercises while walking… Continuing.
Do 4 reps of my physio exercises 6 times a week… No.  I'm switching back to Callanetics, the program I've used on and off for years.  My goal is to do 10% of the maintenance program each day, taking a day off if necessary, and to build up strength very, very slowly.
Be usefully active for 1 to 2 hours a day, 6 days a week, without overdoing it … I hung up laundry, weeded, swam, took the kids out, and puttered around the house.  Monday was too much, though, and I paid for it on Tuesday.
Avoid sugar five days a week … No. We're eating some special holiday foods like marshmallows roasted over the fire and gluten-free 's mores.
Eat lots of vegetables, including fresh ones, and yoghurt … Yes to the veggies, no to the yoghurt.
Prepare and eat one fermented food a week… No. I'm continuing to focus on fresh veggies.
Relax daily…Yes.  Sometimes by enjoying an afternoon nap, sometimes by sitting under the butternut trees with a book, and sometimes by reading on the couch in the evenings.
Cut something out of my schedule…Still exploring ways to simplify, declutter, streamline, and drop things.
Have fun with the kids, including active fun…We swam, had company, read aloud a lot, walked all day at the Agriculture Museum, and enjoyed having Daddy around.
How about you? Did you exercise, eat well, and relax happily this week?
Please link up your health and fitness post in the comments below. You can use your own format, your own goals, and post on whatever day works for you. Just don't forget to link back here from your post.
Note: Fit Mommy Friday is the Health and Fitness Check-In column of The Christian Home Carnival.