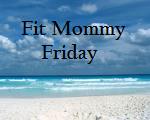 encouraging each other to care well for the bodies God has given us
My personal goal is to regain strength after a debilitating illness so that I can live a healthy, active life with my family.
Whatever your fitness goal, please feel free to join Fit Mommy any time.
Well, after last week's walking triumph my pedometer broke.  For a few days I muddled along trying to guess the numbers from the bottom half of the pedometer display, but then gave up and focused on dealing with salsa, raspberries, and mountains of chard.  I spent a lot of my time this week standing, moving from stove to counter and back, chopping, lifting, and reaching.  I probably walked a lot, definitely exercised my arms and back, and feel a lot stronger than before the harvest started. 
Mild activity all day long does make a huge difference!
Here's how my goals went this week:
Record my fitness accomplishments each day… Yes, as much as I could.
Do 10 repetitions of my eye exercises 5 days a week and relax my eyes whenever I think of it …3x.
Go for a daily walk and average 7500 steps a day … No daily walks outside, but an enormous amount of walking in my garden and kitchen, and two sessions on the treadmill.  The average was probably over 7500 steps, but I am not sure.
Have good posture and do core strengthening exercises while walking; sit straight at the computer… No, I'm probably a bit too tired.
Work on the Callanetics maintenance program… Once.
Be usefully active for 1 to 2 hours a day, 6 days a week, without overdoing it … I hung up laundry, harvested, canned, chopped and blanched, and puttered around the house, some days for 10 hours!!  And I felt OK after that.
Avoid sugar five days a week … Yes.
Eat lots of vegetables, including fresh ones, and yoghurt … Yes.
Prepare and eat one fermented or soaked food a week… A few breakfasts of soaked buckwheat groats.
Relax daily…I skipped a few days, but really needed the rest.  So I took a pillow into the car whenever I wasn't driving and caught up on my sleep on the way to a party, church, and a wedding.
Cut something out of my schedule… Despite the busy season, we're eating, wearing clean clothes, and doing schoolwork as well as harvesting.  Somehow it's working.
Have fun with the kids, including active fun…We harvested, celebrated The Hobbit and a wedding, and read aloud. 
Please link up your health and fitness post in the comments below. You can use your own format, your own goals, and post on whatever day works for you. Just don't forget to link back here from your post.
Note: Fit Mommy Friday is the Health and Fitness Check-In column of The Christian Home Carnival.