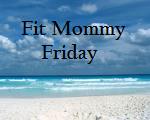 encouraging each other to care well for the bodies God has given us
by being active, eating wisely, and relaxing adequately
We had sunshine this week, so we worked outside, preparing the chickens and the garden for winter.  And, for the first time ever, I was able to help clean out the chicken coop!  While walking in the sunshine and brisk breeze, blissfully pushing the full wheelbarrow to the compost pile, I realized how far I'd come since the days when I was too weak to mash the potatoes!  Thank you, Lord!  And thank you, Fit Mommy friends, for your weekly encouragement and inspiration.
Baby steps do go a long, long way!  I hope that you also are keeping up with your health goals even though life is getting busier.
Here's how my goals went this week:
Record my fitness accomplishments each day… Yes.
Go for a daily walk and average 10,000 steps a day …Working outside adds steps automatically and I used the treadmill on most rainy days:  6800, 8300, 10,500, 5800, 10,400, 9600, for an average of 8600 steps a day. 
Be usefully active for 1 to 2 hours a day, 6 days a week, without overdoing it, or do formal exercises …  Between housework, gardening, cleaning out the chicken coop, and grocery shopping, I was active most days.  We limited the outside work to less than an hour, but it was rather strenuous.  I so prefer useful activity to formal exercise!
Do 10 repetitions of my eye exercises 5 days a week and relax my eyes whenever I think of it …3x.
Avoid sugar five days a week … I enjoyed some homemade pudding, a bit of chocolate, and a low-sugar apple crumble.  Also, for the first time since my celiac diagnosis, I had commercial candy. It was delicious. 
Eat lots of vegetables, including fresh ones, and yoghurt as well as one fermented or soaked food a week … Yes to the veggies, no to the yoghurt and soaked or fermented food.  Why do I experience this resistance to making yoghurt?
Relax daily…No.  It's been busy around here, and oftentimes gardening took the place of an afternoon nap.  It was almost as restful, though, and certainly as good for my cold.
Have fun with the kids, including active fun… Lots of reading aloud, lots of good food, and some garden work.
Please link up your health and fitness post in the comments below. Use your own goals, and post on whatever day works for you. Just don't forget to link back here from your post.
Note: Fit Mommy Friday is the Health and Fitness Check-In column of The Christian Home Carnival.