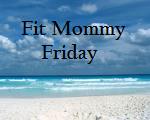 encouraging each other to care well for the bodies God has given us
My personal goal is to regain strength after a debilitating illness so that I can live a healthy, active life with my family.
Whatever your fitness goal, please feel free to join Fit Mommy any time.
We had a whirlwind week:  a birthday party (with swimming), a shower, a church picnic (with swimming), and the beginning of school.  Sometimes fitness was the last thing I thought about, but I'm still pleased with my week.  Even on the first days of school I was constantly on the move…because I had not quite finished preparations and still needed to run up and down, collect textbooks, and so forth.  Usually the first days of school are all about sitting around, but this was more fun and healthier, for me at least.
Record my fitness accomplishments each day… I skipped a day, because I spent much of it swimming and walking around without a pedometer and did no formal exercises.  It would have been a great day if I could have figured out a way to record it.
Do 10 repetitions of my eye exercises 5 days a week and relax my eyes whenever I think of it …4x instead of 5.
Go for a daily walk and average 7500 steps a day … Here are my steps for the week:  7500, 7800 ,7500, 8200, 6500, for an average of 7500 steps, right on target.
Have good posture and do core strengthening exercises while walking… Walking on the treadmill is especially good for this.  Yes, and I should have better posture at the computer, too.
Work on the Callanetics maintenance program… I started again, slowly.
Be usefully active for 1 to 2 hours a day, 6 days a week, without overdoing it … I hung up laundry, weeded, harvested, 'ran' around with textbooks and lists, shopped, and puttered around the house.  No huge physical efforts, but lots of small ones.
Avoid sugar five days a week … No.  There were too many special events this week.  But sweets don't taste as good as they used to.
Eat lots of vegetables, including fresh ones, and yoghurt … Yes to the veggies.  The kids have been asking me to make yoghurt again.
Prepare and eat one fermented or soaked food a week… Yes, a few breakfasts of soaked buckwheat groats.  Yum!  To add healthy fats, I added dessicated coconut one time, but that did not taste as good and it took twice as long to chew.
Relax daily…No, but I slept long, long nights.  We all did, and it was good.
Cut something out of my schedule…, No, but I've been successful in avoiding any new activities for this school year, thanks to my dear husband's strong encouragement.   What with harvesting and school, there really isn't any time.
Have fun with the kids, including active fun…We swam, gardened, shopped, celebrated a birthday, attended a shower and a church picnic, and read aloud.
How about you? Did you exercise, eat well, and relax happily this week?
Please link up your health and fitness post in the comments below. You can use your own format, your own goals, and post on whatever day works for you. Just don't forget to link back here from your post.
Note: Fit Mommy Friday is the Health and Fitness Check-In column of The Christian Home Carnival.