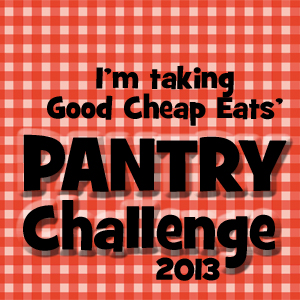 We've been trying to focus on eating out of our freezers and pantry, and the first week we did quite well.  However, this week I ended up shopping more than I needed to, and I've come to the conclusion that the trouble with a pantry challenge is purely psychological.
A pantry challenge
makes me think about food
makes me think about staying away from grocery stores.
makes me think about saving money
Those are all good things, but when you're faced with a full freezer or two (or three), and a whole blissful week of not grocery shopping, and those enticing front pages of the grocery store flyers, well, then if you get close to a grocery store you just pop in for the deals.  And when they're the once-every-six month kinds of deals, you stock up.  Or at least I do.  And that, somehow, is the end of a successful pantry challenge week.
Monday I even bought a pork shoulder roast!  It was an incredible deal and will make at least three yummy meals for pennies, but it was not in the spirit of the pantry challenge.  And we do still have a lot of meat in our freezers.
So this week, although we did eat a lot out of our pantry and freezers, we did not do as well as we could have on our pantry challenge.  On the other hand, we're eating a varied diet of healthy, delicious food and saving modest amounts of money, both of which are good things.
My goals for next week are the same as last week:
eat about a shoe box's worth of food from the freezers each day,
enjoy more squash and pumpkins, and
minimize grocery shopping.
And I'm adding one goal: don't think too much about this pantry challenge, because it will make me actually want to go grocery shopping, a job I normally dislike.
If you have a pantry or freezer to get under control, join Jessica's Pantry Challenge! This post is also linked to Frugal Tuesday Tip, Better Mom Monday, Encourage One Another Wednesday, Women Living Well Wednesdays, Works For Me Wednesday , Wisdom Wednesdays, Raising Homemakers, and Frugal Friday.