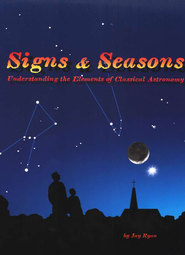 Do you want to understand the night sky the way it was understood hundreds or even thousands of years ago?  Do you want to know how to tell time and direction, seasons and solstices just by looking up?  Resources about such fascinating aspects of classical astronomy can be difficult to find.
Here's good news, though.  My favorite classical astronomy resources are on sale this week.
Signs and Seasons by Jay Ryan is 25% off this week at CBD.  This is a beautiful, glossy hardback book, full of fascinating information.  It also gives glory to whom it belongs, our Creator God.  The softcover Field Journal and Test Manual, also 25% off, helps to add a hands-on component to this course so it can be used as an official course with lab.  Although we have not used this as a formal high school course, it is spellbinding as a story about the sky.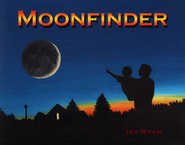 Jay Ryan also wrote and illustrated Moonfinder, the story of David and his father who track the moon and its phases for an entire month.  We don't own this book yet, but it looks amazing.  It is also 25% off this week.
If your family is interested in classical astronomy, you'll want to check out this week's sale at CBD.
Disclosure:  As always, I am not compensated for spreading the word about this great sale.