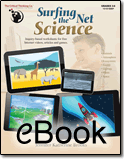 These days it is important to know how to search the internet effectively. Surfing the Net: Science is designed to teach this skill early enough to benefit a student's whole school career.
Aimed at grades 3-6, Surfing the Net: Science teaches science based on standards in most US states, but its primary focus is to teach students how to gather information from the internet.  Each main section (animals, atmosphere, ecosystems and habitats, energy, geology, plants, and space) features fill-in-the-blank pages based on key word searches, as well as links to informative websites, animations, movies, experiments, and more.
This consumable workbook teaches mainly through the links it provides and the more than 180 pages of questions and fill in the blanks. Both the student section and the answer key are well-organized and easy to use.
Surfing the Net: Science contains a huge number of quality links. (For those using a real book, the links are also available online so that they do not need to be typed in.)  Almost all links are from safe websites, although in one case I did notice inappropriate ads below the video despite my K9 safety filter.  I would urge parents to check out links before giving them to their children.  Although I did not check out every link, I noticed only one that no longer worked and I was able to find the video by searching the website that it re-directed to.
This book assumes evolution and global warming, both of which are debated in scientific circles. Of course it is good for children to know the different points of view, but many parents will want to double-check these sections as well as preview the relevant links.  On the other hand, I was struck by the page in which students are encouraged to design their own newly evolved creature.  This reminded me of an activity in my elementary school years that inoculated me against evolution:  we were told to design our own extinct creature using chicken bones!
Surfing the Net: Science is ideally suited to the unit study method of homeschooling because each topic has so many options and links suitable for a range of ages.   Because an enormous amount of science content is involved, this could also be used as a formal science curriculum.  However, for classical and Charlotte Mason homeschoolers, Surfing the Net: Science would work best as an enriching supplement to a more cohesive course.
No matter how it is used, if this study were spread out over several years, students would be able to refine their internet searching skills more than if the course were compressed into one year.
Because my children are beyond the recommended age range, we are planning to use Surfing the Net: Science as a special treat, supplementing Apologia's General Science with some of the recommended videos.  I will also assign a few of the key word searches to reinforce this essential modern skill.
For more information or to order, visit the Critical Thinking website. If you decide this book would work for your family, do not forget to use the 15% off coupon code described below.
—
15% Off Any Size Order!
Details: Offer expires 10/31/2013 at Midnight PST.  Use Coupon Code BLOGR814.  Online prepaid orders only.  Valid one per customer.  Offer does not apply to iOS or Android apps, bundles or manipulatives such as Attribute Blocks, Interlocking Cubes or Patter Blocks.  Offer may not be combined with other discounts or offers and is not retroactive.  Not valid on wholesale orders.
—
This review is linked to Finishing Strong , Trivium Tuesdays, Works for Me Wednesdays, and Raising Homemakers.
Disclosure:  I received this ebook from the Critical Thinking Press for the purposes of an honest review.  No compensation is involved.