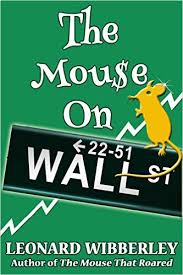 Do you want an enjoyable way to introduce your teens to economics? We started with The Mouse on Wall Street by Leonard Wibberley, and it has been very successful.
For centuries the people of Grand Fenwick had produced their renowned wine, Pinot Grand Fenwick, and their wool.  Since defeating the United States in war, a story told in The Mouse that Roared, the tiny country enjoyed a stable economy, happy people, and a secure future.
Now, however, they faced a threat of unimagined consequences.  The Pinot Grand Fenwick chewing gum company that became theirs as part of the spoils of war, made a profit of one million dollars, the equivalent of the entire national budget!  The Count of Mountjoy, her Grace Duchess Gloriana XII's loyal prime minster, saw the danger and did not want to give this wealth to the people of Grand Fenwick.  He was certain it would hurt them.  However, he was defeated by the Labor leader, Mr. Bentner, who divided up the money among the people and expected all of their problems to be solved.  Instead, they faced greater difficulties than their nation had ever known before, difficulties predicted by Mountjoy and understood only too late by Bentner.
When the next cheque came in, neither politician, and not even the people, wanted to accept the Gum Money.  How they dealt with it—and how that nearly devastated the United States and the whole world—makes for fascinating reading.  We laughed often, and we also learned about finance, economics, and world history during the 50's and 60's.
Of course, none of us caught each reference and Mr. 20, who studies finance at university, enjoyed it more than the rest of us, but each of us found it to be a completely satisfying book. As Miss 15 sighed happily when we finished it, "This is the best book ever."
The Mouse on Wall Street quotes I love:  (Note that these are not the essence of the book and, perhaps, say more about me than about the book, for it is not overtly Christian and rarely mentions God and faith.)
"Time," his father had often told him, "dissolves most crises.  If you will examine the history of the world you will find that the greatest disasters have always resulted from hasty decisions. Furthermore, if God took seven days in which to make the world, you will never be blamed for taking three weeks to answer a letter.  In that time you will often find the urgency has disappeared and no action at all is required on your part." p 15
"They felt that in a world where belief in God was weakening there had always been the dollar.  And now the dollar was going because it was, after all, just a piece of paper."  p 152 (Or, in terms of modern science one could say, "They felt that in a world where a belief in God was weakening there had always been evolution.  And now evolution was going because it was, after all, just a vain attempt to eliminate God.")
"In essence, money is an act of faith….It is nothing more than belief." p 152
Recommended for homeschooled high school students as an introduction to economics and recent history as well as for pure enjoyment.  In our family it was a successful read aloud.
—
The Mouse on Wall Street is the third of Leonard Wibberley's Grand Fenwick books that we have read aloud and each of them has been a hit.  In each case we laughed a lot, guessed vainly at the plot, and hugely enjoyed all the wry commentary sprinkled throughout the books.  Other books in this series that we can recommend, both for their humor and their insight into recent history:
The Mouse that Roared:  Grand Fenwick, a tiny country on the boarder of France, attacks the United States and wins.  (A funny movie of the same title is often available on YouTube although, as expected, it is not entirely true to the book.)
The Mouse on the Moon:  When Duchess Gloriana XII, who is normally quite frugal, requests a Russian sable fur coat, her prime minister sets in motion events that end up affecting the space race in a side-splitting way.
—
This is yet another book in the in the 52 Books in 52 Weeks Challenge and is also linked to Saturday Reviews, Booknificent Thursdays, Literacy Musings Monday, What to Read Wednesdays and The Book Nook.  For more encouragement see Raising Homemakers, Titus 2 Tuesday.
Disclosure: We borrowed this book from our library via interlibrary loan.