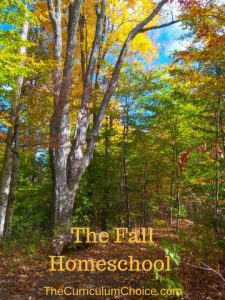 As we look ahead to fall, there are so many things to consider: formal schooling, school supplies, cooler weather, and, for many, some form of harvesting or preserving.  This is always an exciting time of year, full of happy and idealistic plans.  Such enthusiasm is good, as long as we pair it with realism.  I find it so easy to forget that there are only 24 hours in the day, that my children really do need breaks, and that the basics of life—cooking, laundry, and yard care—don't miraculously disappear just because I forget to plan them in.
That is what I wrote as an introduction to a collection of autumn inspiration from the homeschooling moms at The Curriculum Choice.  Here is a sampling of their ideas:
(To read more of these moms' suggestions, check out "The Fall Homeschool.")
And here is my contribution:
August involves delightful things like back to school shopping, making sure we swim every possible chance we get, and eating sweet corn and summer apples.  It also is a month of happy dreams about the upcoming school year and hopeful resolutions for making it a good one.
Here are 33 Reminders for Homeschoolers and 6 Tips for a Successful School Year.  I also need to remember How to Have More Good Homeschooling Days and build or rebuild helpful habits before we begin formal learning again.
I am always inspired by lessons from older homeschoolers and have shared some of them in Notes on Things We Wish We'd Known:  50 Veteran Homeschoolers Share.
But it is important to remember that Each Homeschooling Mom and Family is Unique.  What works for others may not work in our situation.  There's one thing that is always true, though, and that is this:  God Works Through Who We Are and How We Live.
I wish you an enjoyable end of summer and happy dreams of fall.
If you have any great traditions or ideas, please share them in the comments.
—
If you enjoyed this article, you might want to follow me on Google+, where I often mention helpful or interesting ideas, friend me on Facebook where I occasionally show up, or connect with me on GoodReads where I eventually share what I read. 
Disclosure: We received free access to this online course for the purpose of this review.  We are not compensated for our honest opinions.
This article may be linked to Saturday Reviews, Booknificent Thursdays, 52 Books in 52 Weeks Challenge, Literacy Musings Monday, and The Book Nook  as well as to Inspire Me Monday, Raising Homemakers, Friendship Friday, Make My Saturday Sweet.