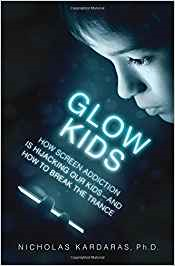 If every parent knew and acted on the research presented in Nicholas Kardaras's Glow Kids, students would learn much better, fewer kids would be on medication for attention and mental health issues, and the psych wards for young people would not be as full.
I have been trying to review Glow Kids: How Screen Addiction is Hijacking our Kids—and How to Break the Trance for months, and each time it would expand into a lengthy exploration of various concepts in the book.  Earlier I discussed the practical educational applications of this book for homeschoolers as well as the mental health implications of screens for kids  Here, finally, is the book review itself.
For some time, screens seemed to be the solution to a whole host of parenting-related issues.  They held promise as educational miracles, replacing teachers and enabling even young children to learn incredible amounts of information.  They seemed to be a splendid babysitter, pacifying young children with educational programs and keeping teens safely off the streets while still allowing them to connect with others.
But, as always, there are negative aspects and it turns out that the negative impacts of screens are far more significant than anticipated
You can read the rest of my review here.
—
If you enjoyed this review, you might want to follow me on Google+, where I often mention helpful or interesting ideas, friend me on Facebook where I occasionally show up, or connect with me on GoodReads where I eventually share what I read. 
Disclosure: I borrowed this book from the library on the recommendation of a pediatric concussion specialist (statistically, phone use and kids' susceptibility to serious concussions have increased at the same time) and have given my own honest opinions.
This article may be linked to Saturday Reviews, Booknificent Thursdays, 52 Books in 52 Weeks Challenge, Literacy Musings Monday, and The Book Nook  as well as to Inspire Me Monday, Raising Homemakers, Friendship Friday, Make My Saturday Sweet.