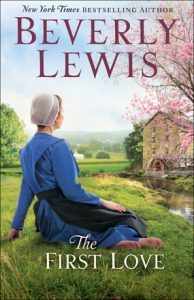 Maggie Esh, sixteen, is ill and spends most of her days in pain and fatigue, wishing she could contribute more to the family and hoping that someday she will be well enough to become a wife and mother. Yet she is cheerful, diligently trying to understand how to be content and knowing that her sovereign and loving God is in charge even of her illness.  Maggie's supportive family accepts her limitations and Rachel, her sweet new stepmom, does her best to understand her.
Thus Maggie's life meanders on, through good days and bad.  She attends a revival meeting with Cousin Lily where she meets the preacher's son, Glenn, who used to be ill as well.  She goes to singings and other church gatherings where kind Jimmy acts confusingly. She discovers the Bible's stories of healing and comfort.  She tries new vitamin supplements….
The First Love is stepmom Rachel's story as well, as she gets to know her new husband and tries to connect with his children, and it is younger brother Leroy's story, too, as he struggles to accept his stepmother.
Although this is a pleasant and uplifting novel for all, it was especially moving for me to watch Maggie, Rachel, and their family struggle with illness in a way that our family is so familiar with.
The First Love confirms what I've often said, that suffering well is something we need to learn. One of the best ways to learn is by watching someone else suffer in a godly way, seeking the Healer more than healing itself.  This book provides such an example and will help people, whether they suffer, support sufferers, or are currently doing well.
Fundamentally, though, The First Love by Beverly Lewis is a sweet novel that will add joy, a touch of Amish romance, and some gentle nudges toward godliness to a few relaxing hours.
—
More Books about Pain and Suffering
(book links are to my reviews):
Suffering
Supporting others
Understanding and Managing Pain
—
If you enjoyed this review, you might want to follow me on Google+, where I often mention helpful or interesting ideas, friend me on Facebook where I occasionally show up, or connect with me on GoodReads where I eventually share what I read. 
Disclosure: This book has been provided courtesy of Baker Publishing Group and Graf-Martin Communications, Inc. and is available at your favorite bookseller from Bethany House, a division of Baker Publishing Group.
This may be linked to Saturday Reviews, Booknificent Thursdays, 52 Books in 52 Weeks Challenge, Literacy Musings Monday, and The Book Nook  as well as to Inspire Me Monday, Raising Homemakers, Friendship Friday, Make My Saturday Sweet.