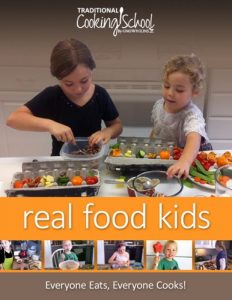 We have about 18 years to teach our kids all sorts of academics, from reading to advanced math. It's an overwhelming load, and occasionally homeschooling parents forget the importance of practical subjects like nutrition and cooking. This is a bad thing, because food and food preparation choices can affect our lives in many ways. In fact, there are some who say that a significant percentage of our society's skyrocketing physical and mental illnesses are due to the foods we do and don't eat.
Some suggest that a large part of the problem is that our society does not understand what real food is. I am certain that another aspect is that many are, for whatever reason, not choosing and preparing their food carefully. Sadly, many people do not even know how to prepare healthy, delicious food confidently and without excessive effort, day after day. And, without knowing that this is both desirable and possible, advertising and inertia easily win out, resulting in unhealthy, expensive food choices.
There is another way, one that used to be part of every high school curriculum, and that is to teach kids to cook. Yes, we can give our kids the skills to prepare foods that will nourish them and their future families.
Real Food Kids, a simple but thorough cooking course from Traditional Cooking School, encourages and empowers moms to teach their children the basics of cooking real food. Toddlers learn to make watermelon pops and, step by careful step through the years, kids learn more and more skills, continuing on to advanced meat cooking when they are older teens. This course is meant to fit seamlessly into family life and to graduate young adults who can recognize, shop for, and cook real foods, producing healthy, delicious meals with confidence.
So, how does it work? The course includes an ebook and many videos. What is unique about it is that the multiyear course manual is written mostly for moms, showing them how to teach their kids, although there are sections aimed directly at older children and teens as well. Course videos range from cute, encouraging ones about doing dishes with babies to technical ones about advanced knife skills, including knife sharpening. The teachers' children show up in most of the videos as they learn, practice, and even teach various skills and recipes….
You can read the rest of my long review of Real Food Kids at The Curriculum Choice.
—  
If you enjoyed this review, you might want to friend me on Facebook where I occasionally show up, or connect with me on GoodReads where I eventually share what I read. 
Disclosure: I have received a free membership to Traditional Cooking School in order to review several of the courses.
This may be linked to  Inspire Me Monday, Christian Homemaking, Friendship Friday, Make My Saturday Sweet.