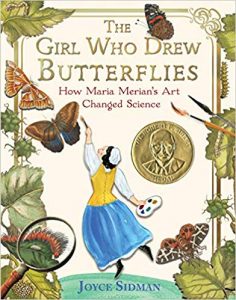 In 17th century Europe, young Maria Merian was fascinated by butterflies. 'Summer birds', they were called, and no one really knew where they came from.
Raised first in an engraver's house and then an illustrator's, Maria learned both the technical details of her craft and how to observe nature. She combined the two to become a well-known naturalist and artist, fascinating Europe by her observations of the butterflies and caterpillars of northern Europe as well as those of Suriname. In her paintings she portrayed the life cycles of butterflies along with the plants that they depended on, showing connections among life forms rather than merely categorizing them individually.
Lavishly illustrated with Maria's own artwork, other historical artwork and maps, and photographs, The Girl Who Drew Butterflies: How Maria Merian's Art Changed Science tells Maria's story in the context of her culture and time. Thus, besides being incredibly beautiful, the book also gives a detailed look into many aspects of 17th century life, art, and science. The focus, however, is always on Maria, her childhood, artistic training, fascination with butterflies, marriage, motherhood, life in Amsterdam, travels, and influence.
Since so little is known with certainty, The Girl Who Drew Butterflies contains modern speculations and musings on Maria's life, situation, religion, and marriage. Although this is inevitable and the author is careful to point out that they are speculations, this does detract from the book somewhat.
Quotations from Maria's writings are given throughout the book. Most of them are about the animals she was observing, but some give a clear picture of the woman and her society.
Since witch hunting was common, it was slightly risky to be a woman interested in caterpillars and other 'vermin', but Maria wisely began her study with silkworms.  She pointed out,
Because almost everyone is acquainted with the silkworm, and because it is the most useful and noblest of all worms and caterpillars, I have here recorded its transformation.
At one point, she wrote, "Because the modern world is very picky and the scholars have different opinions, I simply stayed with my own observations." These 'observations' included both her illustrations and her careful notes.
Like her contemporary, Antonie Van Leeuwenhoek, Maria gave glory to God,
One is full of praise at God's mysterious power and the wonderful attention he pays to such insignificant little creatures….Thus do not seek to praise or honor me for this work, but rather God, glorifying him as the creator of even the smallest and humbles of these worms…
Maria Merian's studies of butterflies, molting caterpillars, and plants, both in Europe and the New World, changed how Europeans saw this aspect of nature. Through her meticulous observations and her artistic skill, she greatly influenced later scientists such as Carl Linnaeus, but she also offended those who disapproved of amateur scientists, women scientists, and an ecological rather than reductionist view of nature.
This gorgeous book is suitable for homeschooled students from middle school on and will contribute to the study of biology, art, and history. It will also fascinate teens and adults interested in butterflies, the history of science, or the contributions of women to science.
We recently visited a butterfly exhibition at the Canadian Museum of Nature in Ottawa.  If you are local, I highly recommend that exhibition, especially in combination with this book.
Note:  This is the kind of book that we use for the science and math reading component of our high school, although unfortunately my girls were not interested in this specific one.  You can see reviews of a few examples of such science and math books here.
—  
If you enjoyed this review, you might want to friend me on Facebook where I occasionally show up, or connect with me on GoodReads where I eventually share what I read. 
Disclosure: We borrowed this book from the library and are not compensated for our opinions.
This may be linked to Saturday Reviews, Booknificent Thursdays, 52 Books in 52 Weeks Challenge, Literacy Musings Monday, and The Book Nook  as well as to Inspire Me Monday, Christian Homemaking, Friendship Friday, Make My Saturday Sweet.