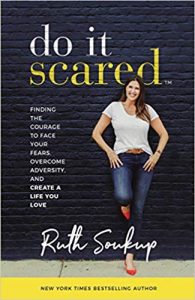 Over the years Ruth Soukup has taught me much about topics ranging from blogging to dejunking to productivity. She's an inspiring, enthusiastic person with a difficult past who writes to the average woman from the heart, who shares her own struggles, and who often points to Jesus. Besides that, she's fun, authentic, and Dutch.
In her new book Do It Scared Ruth explains something she's been living and talking about for years: courage is acting despite your fears instead of being immobilized by them. She describes various kinds of fears, shares hard won principles of courage, and outlines tested ways to turn the ideas into action.
After conducting an extensive survey, Ruth and her team identified seven 'fear archetypes', ways of letting fear rule your life. She discusses these in detail, explaining how each one of them has positive attributes, what habits they can lead to, the words we use to express them, how they can hold us back, how we can overcome them (reframe, take action, have accountability), and how to move past them.
I have never seen myself as a person ruled by fear (except the fear of wild driving and of accidentally eating gluten and causing all my celiac symptoms to return), but as I read about these fear archetypes, I realized something startling. I can identify with some of them and they have impacted my life negatively! Once I discovered this, I stopped reading merely because I like Ruth Soukup and realized that this book just might have something very important to say to me personally.
In the second section of the book, Ruth shares seven principles of courage. These do involve courage: dreaming big, daring to think for yourself, accepting responsibility for your choices, inviting accountability, working with your mistakes, setting priorities, and persevering. She's encouraging but also tough, because reality is tough—and she reminds us just how hard it can be with inspiring stories of hardship overcome. Most of us know these principles of courage, but it is always good to be reminded of them and to see examples in action.
Finally, because the biggest practical antidote to fear is action, she discusses seven ways to turn courage into action. This section is about determining what it is we are called to do and how to go ahead and do those things. Ruth discusses goal setting, motivation, action plans, positive relationships, comparison, excuses, and celebrating wins, but this is not just standard goal-setting advice. (How often does that work anyhow?) Ruth's personal take, her research, and her suggestions are actually more likely to help you achieve your goals.
As you can imagine, this is a very positive book. It is also grounded in reality. Although Do it Scared is not evangelistic as, for example, Unstuffed, (link to my review) Ruth's thought is grounded in her Christian worldview even though she does sometimes use words that suggest the opposite. Yet it is sad that in a book this personal and deep she does not even touch on our sin or on the salvation Jesus provides.  She does not mention the fact that, as sinners, we cannot do it all ourselves and need to rely on God to be able to serve him.  However, it is obvious that this book is meant to be a practical encouragement to those who are unable to follow their callings because they are paralyzed with fear, and such encouragement from a fellow-Christian is valuable even though the gospel does not shine through.
Do it Scared is a very personal book and it is impacting me personally:
Although I have been living rather well with illness, I would very much like to be healthy. Even though health is most likely out of my grasp in this world, I could be more determined about striving for it and that would have its own benefits…as long as I approach it right. Just this weekend, for example, feeling better than usual and optimistically ignoring warning signs, I forgot to pace myself. I am currently paying the price for that. However, Ruth's story of taking ownership of one's responses is inspiring me to systematically analyze what went wrong, how to fix it, and what I can learn to minimize both the severity and length of future crashes and perhaps even eliminate them altogether.
Even though I am an experienced homeschooler, I always procrastinate on preparing the final high school records and often on planning. I could never figure out why; now I realize that I want these important things to be just right and that goal of perfection could be what is driving the procrastination.
When I become aware of a problem, I automatically think of all sorts of ways to address it and then try to apply several of them at once.  I'm realizing that it may be more effective to just choose the most important one and finish it before tackling the next ones.  Yes, I knew this before, but now I'm learning to actually do it.  So far, so good!
Some people do not seem to have an issue with fear; they just do things and let the chips fall where they may. The rest of us, however, can benefit from this book. Yes, it is scary to face the fact that we may have been acting in fear-based ways that negatively impact us, our families, and our service of God, but it may be a very important thing to face.  And once we realize this is a possibility, we can use Ruth's practical suggestions to help us understand and apply the following texts to our lives.
2 Timothy 1:7 "…God gave us a spirit not of fear but of power and love and self-control."
I John 4:18 "There is no fear in love but perfect love casts out fear. For fear has to do with punishment, and whoever fears has not been perfected in love."
Yes, we will have to think for ourselves and evaluate the things Ruth says in light of the Bible, but reading Do It Scared could be one step toward learning how better to love the Lord and those around us. I recommend it to all.  In fact, even though I have a review PDF, I bought the hardcover book so that I can leave it lying around for my kids and others to discover.  You might want to do the same.
—
If you enjoyed this review, you might want to connect with me on GoodReads where I eventually share what I read, or friend me on Facebook where I occasionally show up. 
Disclosure: I received an advance review PDF of this book from Ruth Soukup.
This may be linked to Saturday Reviews, Booknificent Thursdays, 52 Books in 52 Weeks Challenge, Literacy Musings Monday, and The Book Nook  as well as to Inspire Me Monday, Raising Homemakers, Friendship Friday, Make My Saturday Sweet.