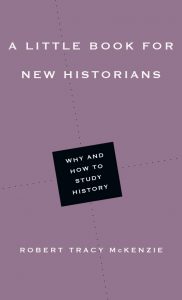 Homeschoolers study history; it's one of the things we do rather well. In fact, there are many homeschool programs that organize the year, or even the full 12 years, according to historical themes. Our family, too, has learned an enormous amount of history over the years and continues to do so. Yet I have always had questions:
What exactly is history?
Why should a Christian study it?
How should Christians look at history?
What about everyday history instead of governments, revolutions, and battles?
What about biases and revisionist history?
What about some of the Christian approaches to history which claim to understand God's plans?
Professor Robert Tracy McKenzie addresses these questions and many more in A Little Book for New Historians: Why and How to Study History. Superbly organized, this little book is a gem for homeschooling parents. It discusses important ideas behind studying history, answering questions about both the 'why' and the 'how'. Those who have absorbed the lessons of this book will be able to give their children a more grounded and rounded introduction to history and will know why they do so.
First McKenzie discusses why we should study history. Defining history as the 'remembered past' he points out that sound historical thinking is something we have to work at because we are not automatically equipped to remember the past accurately and wisely. In fact, in our 'present tense culture', looking at history is a radical activity. Doing so has various practical rewards, but history is much too complex to treat merely as a series of lessons for today. Besides, as Christians we believe that history is linear, not cyclical, so it will not automatically repeat. Even so, serious study of the past can be an expression of Christian obedience and worship.
I was intrigued by McKenzie's six reasons why a Christian should study history:
God created us to be historical beings.
History is foundational to Christianity.
The church includes living and dead, past and present.
Just as God created nature, he also created the past.
When we are faced with the immensity of the past and strive to make sense of it, we are driven to awe, humility, and worship.
Historical understanding helps us renew our minds and take our thoughts captive to Christ by helping us see our own culture from the outside.
Having established that we should study history, McKenzie then outlines how to do so faithfully. To gain an overview of a period, we listen to other historians through secondary sources, always remembering that we are listening in to a conversation about the past, not actually experiencing the past.   By looking at primary sources, we can also listen to people from the past. It takes humility to encounter the past and learn from it instead of merely labelling it or judging it by our culture's standards. We need to learn how to 'study the past on its own terms but not for its own sake' and how to construct a persuasive interpretation of the past. In this sense, studying history is not passive at all, but intense and even creative.
History is not only intense academically but it can also be life-changing. As we encounter people of the past who lived in different times and thought so differently, we encounter things that we think are strange, silly, or even sinful but that seemed normal and right to people of those days. Grappling with this can be life-changing. As McKenzie points out,
The study of history affords a marvellous framework for life-changing moral inquiry, provided that we emphasize moral reflection above moral judgement.… Moral reflection means that we work to identify with those whom we are otherwise tempted to judge. (98-100)
Thus, McKenzie's conclusion is this:
"If you are a new historian, you should expect to increase in historical knowledge, thinking skill, and consciousness, but you should also hope to grow in humility, charity, and wisdom." (105)
Looking at the study of history in this way changes our understanding of what we do in our homeschools. Of course, we will still teach our kids the people, places, dates, and events, but we will realize that history is so much more than that. We will learn to learn from the past. Faced with the intricate, interrelated, overwhelming immensity that is the past, we will stand in awe at what God has done and is doing. Thus we can continue to tell our kids that learning history is not about the test; it's about life.
Although A Little Book for New Historians would be primarily for the parents in a homeschool, it is also suitable for an upper high school level history course. This is an excellent choice for a homeschooling mom's summer reading, especially if her children are teens.
Some of my related articles
"Six Historical Thinking Skills and Your Homeschool" In this article I hoped to someday read about the topic of historical thinking from a Christian point of view; A Little Book for New Historians has been the answer for me.
"Canadian History Through Literature"
"Examples of High School Records for Multiyear, Literature-Based History Courses"
—
If you enjoyed this review, you might want to connect with me on GoodReads where I eventually share what I read, or friend me on Facebook where I occasionally show up. 
Disclosure: A Little Book for New Historians showed up unexpectedly in my mailbox and I am thankful it did.  As always, I have given my own honest opinions.
This may be linked to Saturday Reviews, Booknificent Thursdays, 52 Books in 52 Weeks Challenge, Literacy Musings Monday, and The Book Nook  as well as to Inspire Me Monday, Raising Homemakers, Friendship Friday.