Recently my husband came in asking, "Do you want some nettles?" After all, we do eat them once in a while, especially in chicken soup, because they are so healthy.
So he showed me the enormous patch he was about to pull up, I showed him the difference between wild raspberry and nettles, and a while later he came in with an enormous pile of nettles.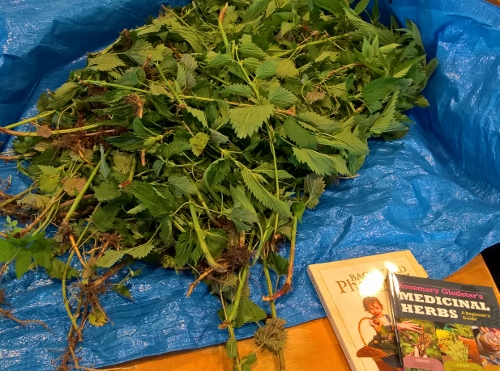 Rather overwhelmed, I looked at two herb books for more information, because it is one thing to eat nettles as a minor ingredient in soup once in a while, but it is something else entirely eat a table full. There I found recipes, dozens of health benefits, and all sorts of interesting tidbits.
Did you know that the ancient Greeks and Romans devoted more land to growing nettles than any other crop, using it for food, medicine, and clothing? My father recalls Dutch farmers having nettle fields to benefit the soil, but he did not know if they just plowed it in as a green fertilizer or if they actually harvested it.
But there I was, with an intimidating mountain of this stinging plant to prepare, and I was just procrastinating. So I put on the yellow rubber gloves I always use with nettles and set to work, stripping off the side leaves to freeze for winter soups and pinching off the tops to eat for supper.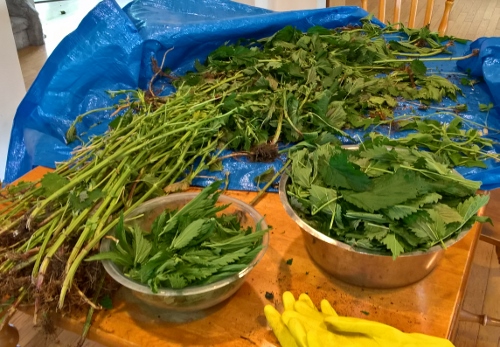 Once this was done, I rinsed and re-rinsed them to get rid of all the dirt. Most of them I froze for soup, using the stovetop variant of my three-step blanching method. The tips I cooked lightly and then served with olive oil, lemon juice, and feta cheese and my family loved them. The blanching liquid, which was essentially concentrated nettle tea, we saved to drink over the next few days.
Looking at the result—22 wee packs of nettles for 22 pots of winter soup, a vegetable for supper, and a few pints of nettle tea—I wondered it if was worth it all the work.
But I hadn't only been making a bit of food. I had also been showing the kids a new activity, intentionally working on our family's health, learning to use what God has placed in our yard, listening to Alison Balsom's trumpet music, and accepting a gift from my husband and from God. I had been intentionally learning from people of the past and using what our society considers useless.
"It's so weird, mom!" Miss 16 protested when someone showed up at the door and saw the pile of nettles. Yes, it is. Like making soup stock, or homeschooling, or being a stay at home mom, or being a Christian, this was, in some sense, a countercultural act.
But perhaps we all need to become more comfortable being a bit weird. Not that we all need to harvest garden weeds, but we all need to learn to be different, to be brave enough to do things that our society considers strange. Like being Christians. Like trusting God rather than the government or Google or the dollar. Like homeschooling. Like doing whatever it is God has called us to do. I wonder if, like other disciplines, it requires intentional practice to get more comfortable with being 'different'.
If so, one can practice being countercultural in many ways, large and small, and that one recent afternoon I did so by processing a tableful of stinging nettles. I thought I was just preparing food; it turns out I was also making a small statement.
—
The story of another gift from my husband.
—
If you enjoyed this review, you might want to connect with me on GoodReads where I eventually share what I read, or friend me on Facebook where I occasionally show up. 
This may be linked to Inspire Me Monday, Christian Homemakers, Friendship Friday.