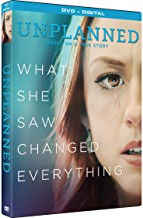 The other day I saw Unplanned. Actually, I didn't see all of it—often my hand was over my eyes—but I certainly experienced it.
This intense movie tells the story of Abby Johnson a naïve young woman who joined Planned Parenthood in order to help women in crisis. Abby was very dedicated to the organization because she was convinced that one of their goals was to reduce abortions by reducing crisis pregnancies. However, she was also completely convinced that she was doing the right thing as she counselled girls and women to have an abortion. Her confidence and naïveté even allowed her to be kind to the praying prolife people outside the gate. It also made her the youngest ever director of a Planned Parenthood clinic.
And then, one day, she was asked to help with an abortion….
What happened next shocked Abby and all those around her.
Despite traumatic scenes and content, this is a worthwhile and potentially life-changing movie. It gives insight to those considering abortions, hope to those who have had one, guidance to prolife prayers and activists, and support to abortion workers who want to leave the industry.
Unplanned producers Cary Solomon and Chuck Konzelman and actors Ashley Bratcher, Brooks Ryan, and Robia Scott tell Abby Johnson's true story sensitively and with emotional impact.
What's more, movie theatres are bravely standing for freedom of speech by showing this movie despite the fact that some have apparently received serious threats. The very fact that there are threats says something: this is an important movie and some desperately want to supress its message. It makes one wonder why.
—
Trigger warning: abortion, medical trauma.
For more information see the Unplanned trailer or read my review of Abby Johnson's book, also called Unplanned, on which this movie is based.  The DVD will be released next week according to Amazon.ca.
Related and on my to-watch list: Hush, a documentary that attempts to start a conversation about important health information that has been hidden by the political furor about abortion. Without this information, informed consent is not possible.
I have written repeatedly on prolife issues and many of my posts are linked in "Defending Life: Let Us Not Become Wearing in Doing Good."
Disclosure: I watched Unplanned when it was showing at theatres.  I am not compensated for my reviews, as always.