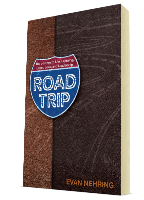 Life for young people, says Evan Nehring, is a road trip between their parents' driveway and their own, years later.  He wants to come along with them on their trip, sharing what his journey was like and passing on all the things he learned.
Evan's book Road Trip is an exhilarating and passionate gift from his heart to anyone who will listen.  I expected it to be relevant to my older teens, and it will be.  However, I found myself, too, nodding happily, taking notes, pondering, and enjoying almost every moment of this book.
Road Trip:  The Journey to Life, Learning, Labor, Love, and Leadership begins in my home province of Manitoba but takes place mostly in the US.  Although I love the nostalgia of the small prairie town names, the book cannot really be confined to any one place, because it is about living a Christian life and the basics of that do not change throughout much of the free world.
In Road Trip, Evan discusses college life, career, love, and involvement in church and civics.  In each of these areas of life, he shows what it means to be committed to "Seven Core Values of a Jesus Follower":
Worship
Devotions
Family and friends
Outreach
Character
Personal Management
Kingdom Story
He also shows why such commitment matters.  But he does not just preach—although he does some of that—he also shares openly about his own mistakes, joys, successes, and heartaches, often in the form of songs he has written.  He quotes and discusses the Bible extensively and also often refers to Christian writers on all sorts of topics.  This is truly like a long road trip with a chatty and godly guide.
Students heading away from home to college will find the section on learning and college life very helpful.  Everyone should ponder Evan's insightful discussion of careers from the point of view of servant, apprentice, journeyman, and master; it truly clarifies a lot of concepts.  The section on love, besides being very personal, also is full of wise and practical advice for young people.  And, no matter what our road trip is like, Evan gives reasons why we must become involved in our churches and communities and gives practical suggestions to do so.
Sounds like a guide to life?  I think that it is meant to be and, for the middle decades of life, it succeeds.
Of course, like all books except the Bible, Road Trip has a few weak points.  Evan, though he spends a fifth of the book on careers, does not seem clear about our work in this world having intrinsic value.  We were saved, not only so that we can go to heaven, but also so that we can get back to doing what we were originally meant to do, stewarding God's world, establishing culture and civilization.  In Total Truth, Nancy Pearcy discusses this attitude very clearly (link is to my review).
Another point, probably related, is that Evan sees the matter of having children as something totally personal and not connected to part of our calling on this earth.
You will probably have other issues with the things Evan says…and I suspect our teens will have different objections than we do.  But that is fine; there is a lot of room for freedom in the kingdom of God.  There is also a great need for thinking about and discussing topics that Evan raises, and his book provides a good starting point.
At almost 400 pages, Road Trip is best for people who don't mind reading.  However, even those who do not enjoy reading will find this book well worth their time and effort.  It would probably also be a useful book for young adults to discuss as a group.
I am glad that I will be able to present Road Trip to my older teens and hope that Evan's enthusiasm for serving God will encourage them as it has encouraged me.  I recommend you also consider buying this book for your young adult children–and maybe also for yourself.
—
I was asked to include a link to Road Trip on Amazon in this review; as always, this is not an affiliate link.
—
This is yet another book in the in the 2014 52 Books in 52 Weeks Challenge and is also linked to Saturday Reviews, Works for Me Wednesdays, Booknificent Thursdays, Raising Homemakers, Finishing Strong.
Disclosure: I received a review copy of this book from Life Sentence Publishing and have given my honest opinion.