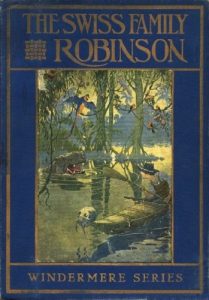 There are few books as suited to finding homeschool rabbit trails as The Swiss Family Robinson by Johann David Wyss. I'm sure you know the story: A family with four boys was shipwrecked on a deserted tropical island. Because they had been planning to set up a colony, the ship was full of useful supplies, but getting them onto the island was an adventure in itself.
The family explored and prospered in their lush surroundings, discovering one exciting plant and animal after another, working hard, and exercising amazing ingenuity to meet basic needs and to find luxuries as well.  As the years went on, the boys grew up and eventually their situation changed…
Not only is this a splendid read aloud for all ages, but parents who love to set up a unit study could easily make this a year-long project….
You can read the rest of this review at The Curriculum Choice.