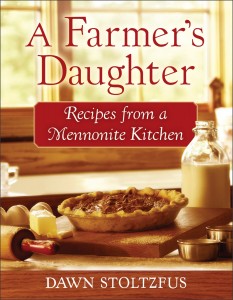 Since I have celiac disease, I rarely pick up a mainstream cookbook, but A Farmer's Daughter was irresistible.  You see, it's about real, yummy, please-your-family food.   What else would a Mennonite dairy farmer's daughter (and former owner of The Farmer's Wife market) write about?
A Farmer's Daughter:  Recipes from a Mennonite Kitchen is full of the recipes and cheerful thoughts of a woman whose love language is to her family and friends is delicious homemade food.  Each recipe is clearly explained, and many contain Dawn's memories of the recipe as well as extra hints and tips.  Although some of the recipes are time consuming, by far the majority are perfect for busy cooks.
Here are some winners from the appetizers, dips, and drinks section: Pumpkin Spice Latte (excellent taste, but our homegrown pumpkins added some unpleasant texture; it should be great with canned pumpkin), Pina Colada Punch (saving the recipe for a special occasion), Stuffed Mushrooms, Finger Gelatin, and Mocha Punch (for a special summer party).
The cream cheese spreads look delightful and simple to make but would, in our family, only be for special occasions.  Treats like Cranberry Salad and Grape Salad, both more of a dessert than a salad, but healthier than most desserts, are easy as well as delicious.  And there are two kinds of spinach salad!
Then there are soups, vegetables (such as Roasted Asparagus, Baked Zucchini Noodles, Campfire Potatoes, Old-Fashioned Potato Cakes, Fresh Tomatoes with Feta, Tomato Tart, and Squash Muffins, and Tomato Toppers), entrees (baked Rosemary Chicken—we've enjoyed a simplified version three times already!—Chicken Curry, Swedish Meatballs, Cheeseburger Quiche, Baked Ham with Brown Sugar Glaze, Ginger and Honey Salmon, Layered Meatless Mexican Casserole), and many baked goods.
Of course, all the breads, muffins, sandwiches, cookies, and many desserts, delicious as they sound, would need to be reworked for a gluten-free family.  Some of the recipes seem worth that effort.
Finally, Dawn includes some do-it-yourself recipes such as mixes, sauces, and cleaning supplies.
A Farmer's Daughter presents not only recipes, but also wisdom:  give grace to your friends, take time to cook with your children, rest on Sundays, treasure memories, enjoy lots of camp fires, pray for your guests, turn to Jesus.  As we're preparing earthly food for those we love, it's always good to remember that there's more to life.  However, this is definitely a recipe book, not a devotional, and the focus is almost entirely on the food.
One important point:  if you are trying to lose weight, this cookbook won't help.  It calls for a lot of indulgent ingredients such as cream cheese, whipping cream (Whipping Cream Potatoes, anyone?), and sugar. On the other hand, many of the recipes are full of health, and an occasional treat is part of any sensible life.
I suppose the test of any cookbook is whether or not it takes you into the kitchen.  Well, at 6AM Miss 10 and I were boiling eggs for Creamed Eggs over Toast (yummy and filling even without the bacon) and selecting a pumpkin for Pumpkin Spice Latte.
I had planned to give A Farmer's Daughter to my oldest daughter—and I did—but I'd really like a copy for myself as well.  It's that good.
This is yet another book in the in the 2013 52 Books in 52 Weeks Challenge, and is also linked to Saturday Reviews, Better Mom Monday, Encourage One Another Wednesday, Works For Me Wednesday , Wisdom Wednesdays, Homestead Barn Hop, and Raising Homemakers.
Disclosure: This book has been provided courtesy of Baker Publishing Group and Graf-Martin Communications, Inc. and is available at your favorite bookseller from Revell, a division of Baker Publishing Group.