Sometimes looking at nature can make me think of all sorts of deep things. Other times I have only one response, "Wow! My God made that!"
Recently we spent some time watching this chameleon.
It looked us over with its ever-rotating cone-shaped eye. The other eye, on its other side, was looking at something else. What brain power must be involved in processing images from two eyes!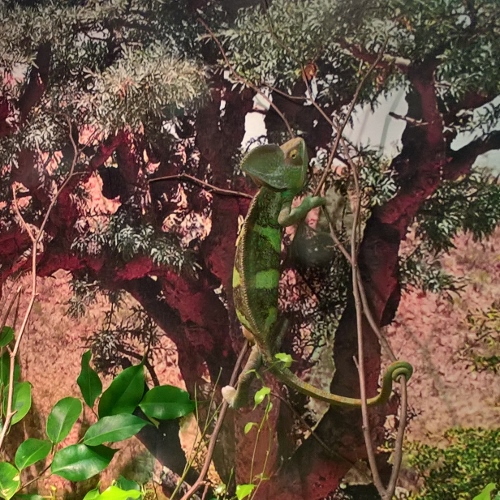 But this little animal, almost sparkling with color, wasn't concerned with any of that. It went on its merry slow way being a chameleon, doing chameleon things to the glory of God. Carefully it moved its funny feet, one at a time, finding new places to hold on. Up the branches it climbed, slowly testing each foothold, carefully observing all around. When footholds seemed unsteady, the tip of its tail wrapped around a nearby branch.
And then it came down again, just being a chameleon to the glory of God.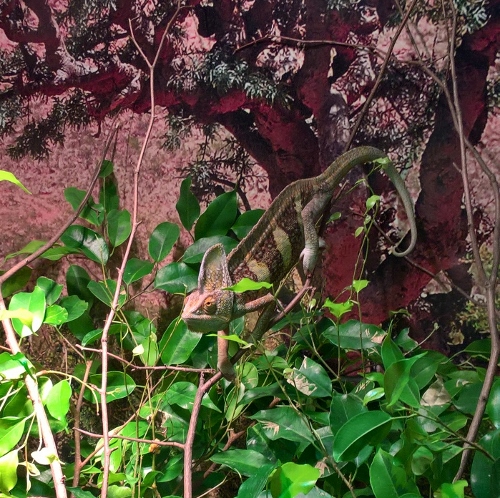 I all can say is "Wow! My God made that, and keeps it going moment by moment!"
Praise the Lord!
May we all intentionally open our eyes, wherever we are, and notice the miracles God has placed all around us!
—
We watched this chameleon and other amazing creatures at "Survival of the Slowest," an exhibition at the Canadian Museum of Nature. This exhibition is open until April 28, 2019. Earlier we saw butterflies there, and once I spent a long time watching butterfly chrysalises.  When the snow howls around, this museum is a good place to see some of the amazing things God has made.
Disclosure: I am not compensated for writing about the Canadian Museum of Nature.
If you enjoyed this article, you might want to friend me on Facebook where I occasionally show up, or connect with me on GoodReads where I eventually share what I read. 
This may be linked to Inspire Me Monday, Christian Homemaking, Friendship Friday, Make My Saturday Sweet.